What do you get when community organizers build a community radio station? KPOV High Desert Community Radio and shows like The Point that lift up the voices of those most impacted by the issues that matter most to the community!

This month on Rural Roots Rising, we continue highlighting rural community media by featuring KPOV and The Point, a daily radio show for Central Oregonians hosted by a rotating cast of hosts. One of those hosts is our very own ROP board member, community organizer extraordinaire, and now KPOV Station Manager Bruce Morris! This month's episode demonstrates the power of The Point and next month we'll go behind the scenes with Bruce to learn more about how KPOV leverages the airwaves to support and resource community building across Central Oregon.
Check out the list of our partner radio stations around the state to see when Rural Roots Rising airs on a station near you, listen to the newest episode online, and listen now at ruralrootsrising.org or wherever you get your podcasts!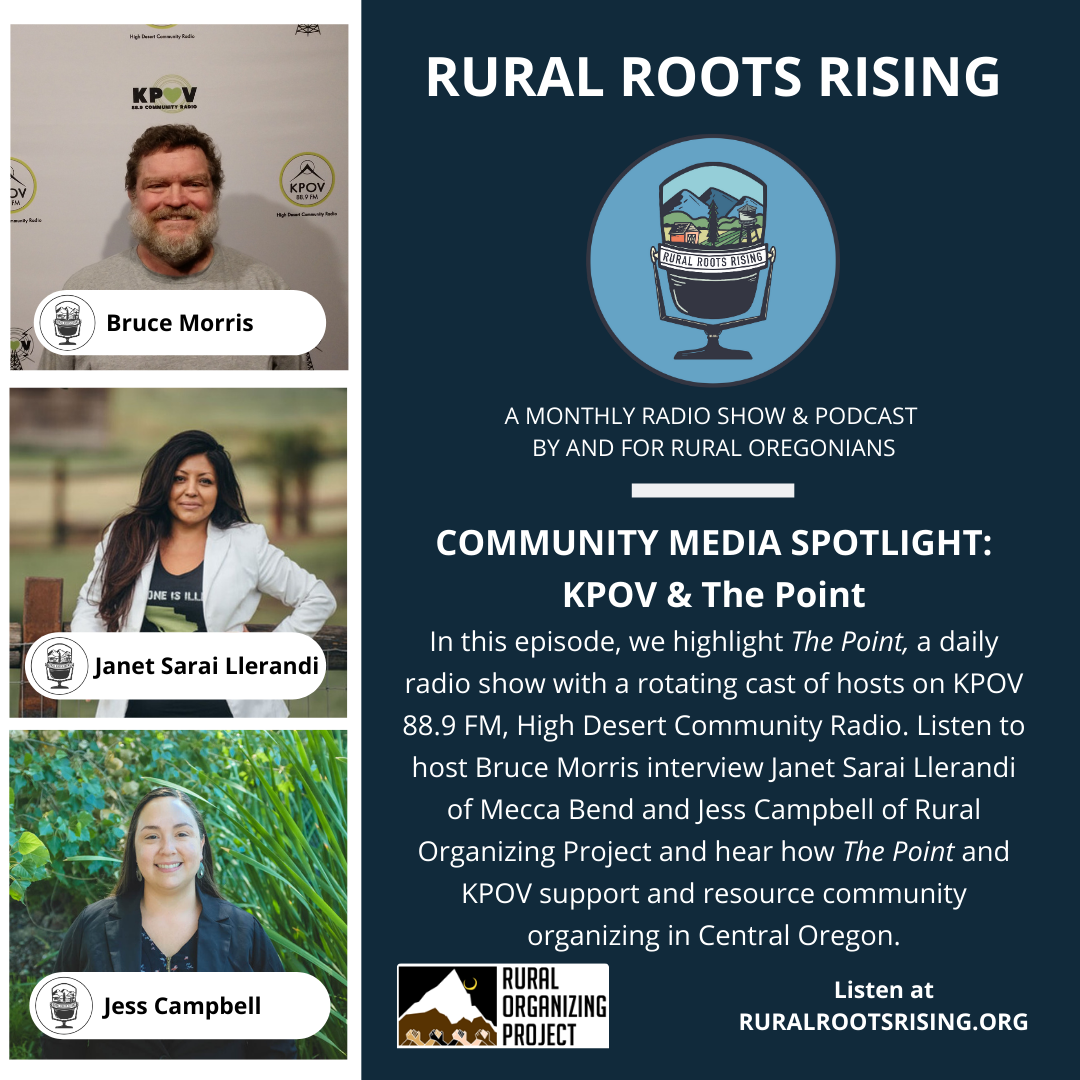 Here is how Bruce describes KPOV's founding values:
"It was progressive in terms of music selection, in terms of variety. In terms of the kinds of people that we wanted to have on the air…one of our specific values is elevating voices that are not normally heard in the mainstream media."
COVID-19 hit rural communities differently, but a few things are universal: a year ago we needed information we could trust, and our communities needed to stay connected so we could pool resources and find effective ways to support each other. The pandemic made it clear that community radio is central in keeping rural communities safe, informed, and connected. Radio plays a central role in sharing health and safety information, not only in English and Spanish, but also in Mam and other languages rural Oregonians speak. This kind of accessibility is a survival resource, one that shares needed information about emergency food, COVID testing and vaccines. It's also a dependable resource for information on shelter, evacuation notices during catastrophic wildfires and other emergency situations.
KPOV & The Point are examples where community radio showed up for the community no matter what. We wanted to showcase not only KPOV and The Point as invaluable sources of local information, but also as hubs of organizing in their own right. In this first episode, we'll listen to excerpts from two previously recorded programs from The Point that showcase the show's willingness to educate and mobilize at the local and regional level.

The first is an interview between Bruce Morris and Janet Sarai Llerandi, Founder and Executive Director of Mecca Bend that first aired in March 2020 when the COVID-19 pandemic was first declared and was disproportionately impacting Central Oregon's communities of color. Mecca Bend is an online directory assistance program that enables the Latinx Community of Central Oregon to find the necessary resources for work support programs, family assistance, education, housing, local events, and much more. Janet shared crucial information about COVID-19 resources and clearly named the ways the information about COVID-19 and resources available to the community were not accessible to most impacted Central Oregonians. Because most information at the time was being shared online and almost exclusively in English, the lack of reliable internet access lack of resources available in languages other than English made it extremely difficult for Central Oregon's communities of color to access quality and often life-saving information. We especially appreciated that this interview became an on-air brainstorming session between Janet and Bruce about how KPOV can be a resource for making sure as many Central Oregonians got the information they needed to stay as safe, healthy, and resourced as possible.
The second part of this episode is from The Point in 2018 where Bruce interviewed me about the growing threats of white nationalist and paramilitary movements and how rural communities were responding. In the wake of the attempted coup and the storming of capitol buildings in Washington DC and Salem, proud pro-militia legislator at the helm of the Oregon Republican Party, and beyond, this interview feels unfortunately timely. ROP's pleading call three years ago is the same today: to take the abandonment of rural Oregon seriously and to take action to make sure everyone who lives in Oregon regardless of zip code has access to basic community infrastructure, including the ability to call 911 and talk to a dispatcher for medical emergencies and access to a library. What was true then is still true now, that as infrastructure continues to get defunded and whittled away, movements that seek to fill the vacuum while speaking to the pain of communities struggling to survive will continue to gain momentum. To learn more about paramilitary movements and how rural Oregonians have successfully organized toward a vision of a strong and vibrant rural communities, check out Up in Arms: A Guide to Oregon's Patriot Movement.
A full transcription of the episode will be available soon at ruralrootsrising.org. You can listen to full episodes of The Point at kpov.org. To learn more about Bruce's organizing work in Deschutes County historically, check out "Building Community Power" from Season 1 of Rural Roots Rising. You can also listen to more episodes of Rural Roots Rising at ruralrootsrising.org or wherever you get your podcasts!
If Janet's stories about the lack of reliable internet access in Central Oregon resonated with you, check out the Roadmap to a Thriving Rural Oregon. Rural community leaders and organizers are working together across Oregon to increase reliable and affordable internet access for rural communities. Learn more at rop.org/roadmap!
Are you interested in connecting with other rural Oregonians who are making media and building stronger communities? Give us a shout! We'd love to chat!

Be sure to tune in next month when we go behind the scenes with Bruce! We'll dig deeper into the overlap between community radio and organizing and explore why rural radio matters!
---
You're invited to the OUT Dance Project's free, virtual dance performances!
Happening March 25-28, 2021. Get your tickets at beyondboomandbust.com!
OUT Dance Project is a storygathering & dance project focused on rural LGBTQ+ stories in Oregon. They are excited to be partnering with the Gay & Lesbian Archives of the Pacific Northwest to archive these stories, widening the representation of rural LGBTQ+ lives in queer herstories. Choreographers, dancers, and writers from across Oregon have been working together to create this show and we would love to share it with you! The shows are offered Thursday, March 25 through Sunday, March 28, 6-8pm PST and matinees at 1pm PST on Saturday and Sunday. All the shows are free, online, and open to anyone! Each show features 5 stories from rural LGBTQ+ folks in Oregon and then 5 dance pieces inspired by those stories, a mix of live and prerecorded material. The show is about 1-hour followed by a 1-hour conversation with the artists. Tickets are free (with the option to donate to a couple rural LGBTQ+ advocacy organizations) by registering in advance at beyondboomandbust.com!