Through a lot of hard work over the past few cycles we have an Oregon legislature poised to pass some strong legislation this year. Multiple bills that benefit rural Oregon are getting hearings and are making their way through committees to the floor of the House and Senate.
In this ROPnet, you will find updates on, and ways to engage with, several of those bills. A number of these bills need some extra support to help them pass, and we will likely need to defend some after the session is over. Read on for tools to engage your neighbors and friends including sending postcards to your legislators, meeting with your legislator at home or in Salem, hosting a call party, and writing letters to the editor:
Details on the bills we are focused on:
The Equal Access to Road Act – Driver's Licenses for ALL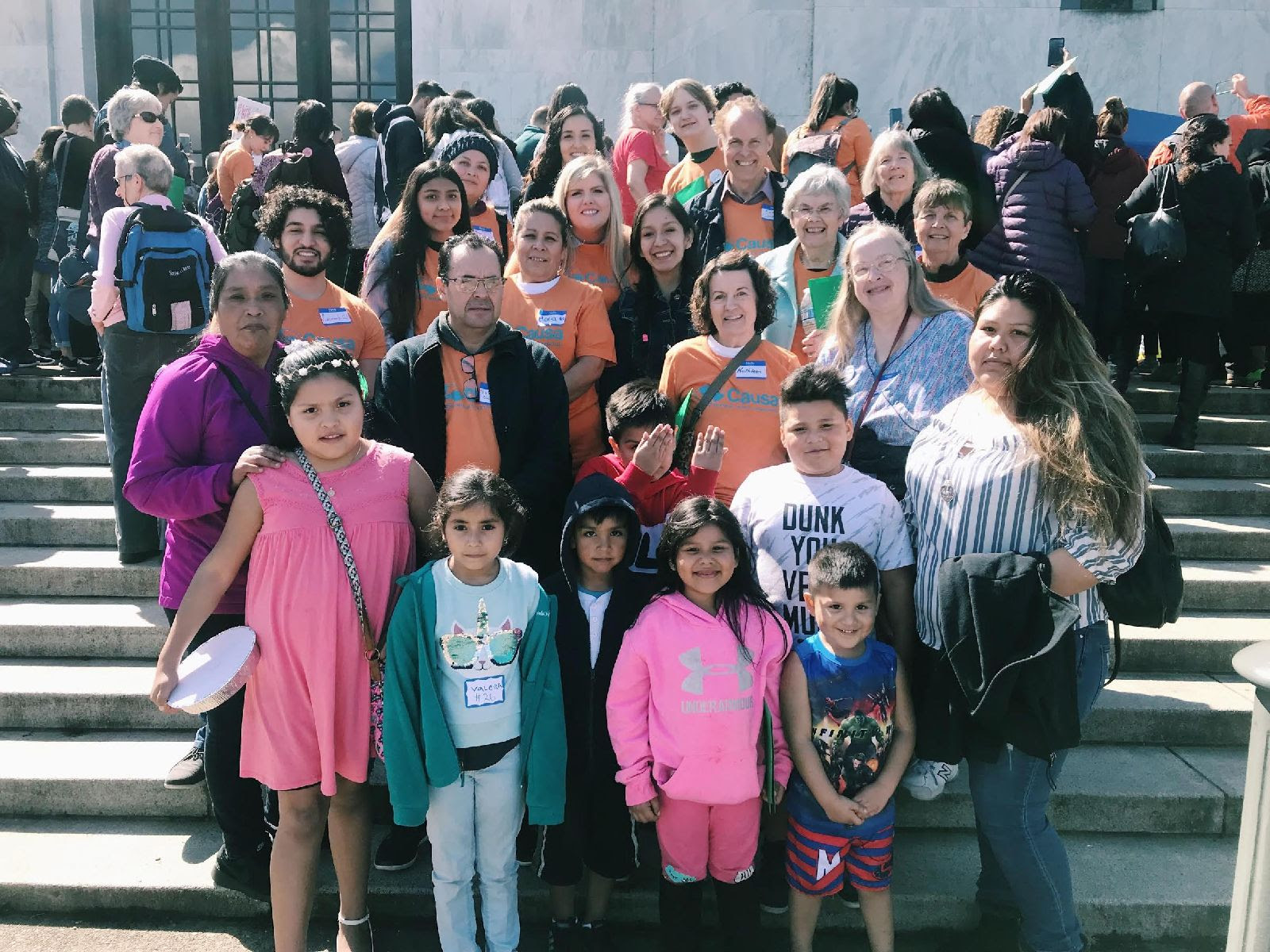 House Bill 2015 expands eligibility for a standard (Class C) Oregon driver's license to all Oregon residents regardless of citizenship status. Driving is a necessity in much of rural Oregon, and everyone deserves to have access to a driver's license. In the past two years, the number of immigrants deported as a result of traffic violations alone increased 138%. Oregon is required to create REAL ID compliant licenses by 2020, meaning that Oregonians will need to upgrade their license (through more stringent requirements) in order to board planes or enter federal buildings. When this change happens, the standard driver's license will be a secondary option for drivers. We have a real chance to pass the Equal Access to Roads Act this legislative session.
Rural Oregonians are already working hard to get this bill passed, showing up to lobby day (see the photo of the Driver's Licenses Lobby Day to the right!), calling legislators and collecting postcards in their communities. We hope to see it pass this session and human dignity groups are already making plans to help protect this legislation after it passes.
Hunger-Free Schools
Universal Access to School Meals with amendments (HB 2760 and HB 2760-1) and Breakfast After the Bell with amendments (HB 2765 and HB 2765-1) would dramatically expand access to school meals across Oregon, offering school meals to nearly all kids at no charge by maximizing federal reimbursement dollars before filling the gap with state funding. HB 2765 would ensure schools with high-poverty rates serve breakfast after the bell, making breakfast far more accessible to students while maintaining flexibility for schools to use the meal service model that makes sense for them. As the legislature considers a comprehensive education funding bill for the 2019 session, these bills are gaining support and will move to the Joint Committee on Student Success as part of the larger package.
Also, check out Double Up Food Bucks (Senate Bill 727A) which will increase the value of SNAP benefits when used at local farmers' markets for fresh fruits and vegetables – putting more healthy food on the table of low-income families and more money in the pockets of local farmers.
Rural Broadband
HB 2184 and SB 69 provide funding for the development of rural broadband service through a small tax increase ($4-$8/year per person) on cell phone service. It is expected to generate $10 million/year that would be distributed through grants and loans to develop broadband connection in rural areas, prioritizing rural schools. The bill has support from both parties and several organizations (1000 Friends of Oregon, the Oregon Farm Bureau, the Citizens' Utility Board and the AARP to name a few), but is facing opposition from wireless carriers. Rural Broadband has not gotten much attention so far, but could provide much needed resources to rural Oregon. Call and write to your representatives to let them know how this bill could impact you.
FAMLI Equity Act
The original intent of SB 121 and HB 3031 was to create a fund, similar to worker's compensation or unemployment compensation funds, for workers to access when sick, caring for sick family members or having a new child (born or adopted) making family leave paid, bolstering the federally required time off which is unpaid. The original bills are no longer under consideration but a new bill (HB2005) is currently being negotiated. We do not yet know the exact shape of the new proposal but we do know that this type of legislation is sorely needed by workers and families in our state.
Hate Crimes
SB 577 updates and strengthens the existing Hate Crimes legislation. If passed, it will change the definition so that bias crimes committed against LGBTQI folks and hate crimes committed by just one person are considered bias crimes. It will set up a statewide reporting process for bias crimes, provide funding for a coordinator at the state level, and a hotline for reporting bias crimes that will be available to victims who cannot get help from local law enforcement or courts, and also creates mechanisms for support for victims even when the case does not result in charges. It currently seems like this bill will pass, but it never hurts to let your legislator know what you think!
Holocaust Education
SB 664 mandates that all public secondary schools in Oregon include education about the history and meaning of the Holocaust. This bill seems like it will pass, and we are excited to work with teachers around the state to problem solve what including Holocaust Education in their curriculum could look like. Do you have ideas? Let us know by emailing us at emma@rop.org!
Take Action:
As human dignity groups contact their legislators (find you representatives here) to express support for policies that will make a difference for rural Oregon, they are also working to engage neighbors, friends and community members in the process, growing our groups and bringing more people in to support human dignity and justice for the long haul. Below are some of the ways groups are building the local movement, to pass policy now, defend it in the future and ultimately grow the number of people that our groups engage with:
Collect postcards, and contact information! Circulate and collect signed postcards for Driver's Licenses. Remember, the folks who sign postcards are the people who will hlep us defend this victory (when it passes) and continue to work for immigrant rights in our communities. Before you mail the postcard, be sure to capture their contact information for future events. Here are some tips on collecting postcards and a sample database for saving contact information. Contact ROP (emma@rop.org) if you would like us to send you postcards.

Organize a delegation to meet with your legislator at home or in Salem. Talk to your legislator about the issues your group cares about and ask if they intend to support these bills. Here are some tips on setting up a meeting with your legislator.

Host a call party! Bring your group together to make calls to your legislators. You can use this call script for Driver's Licenses For All, or make up your own.

Submit letters to the editor to your local paper. Or get together with your group and create a schedule where each week one person writes a letter about important bills.

Want to do more? Use this worksheet to create an action plan specific to your group. Contact your local ROP organizer or email emma@rop.org if you want help with this!
The legislative session lasts through the end of June. Join us at the Rural Caucus and Strategy Session on June 1st to celebrate some victories, strategize together about how to push a few of these great proposals passed before the session ends, and most importantly prepare to build our strength to defend the victory we anticipate on Driver's Licenses for All!