Like so many communities around the state, local leaders in Vernonia came together in a new way in the Spring of 2020 to protest the murder of George Floyd and other Black and brown people killed by police. The organizing that grew out of those roadside Black Lives Matter actions led to the formation of Vernonia Equality & Racial Justice (VERJ.) Soon after, and led by VERJ, the City of Vernonia adopted the Resolution of the City of Vernonia Supporting Equality and Inclusion. The resolution establishes a plan to educate city leadership on implicit bias and racial equity, promises to collaborate on building a bias incident reporting system, denounces racism, discrimination of all kinds, and police brutality against Black people, and more! You can check out and download the resolution here or see the full text below.
Here's what Vernonia Equality & Racial Justice has to say about how they began working together with their local elected officials to make Vernonia a more safe and welcoming place for all:
"For people who aren't familiar with Vernonia, it is nestled in the Coast Range along the Nehalem River in Columbia County. Vernonia has a population of 1,856 in the city limits. Our demonstrations against racial violence and police brutality began in Vernonia on June 2nd, after the killing of George Floyd and in solidarity with the sweeping protests across the US and the world. A group of about 10 to 15 of us stood with signs by the road in a local park that sits on the city's main and only thoroughfare. This initial demonstration was not shared or organized publicly, but between a network of friends out of concern for potential violent counter-protesters from a local militia. We demonstrated again on June 8th and for many weeks after and continued until winter weather set in.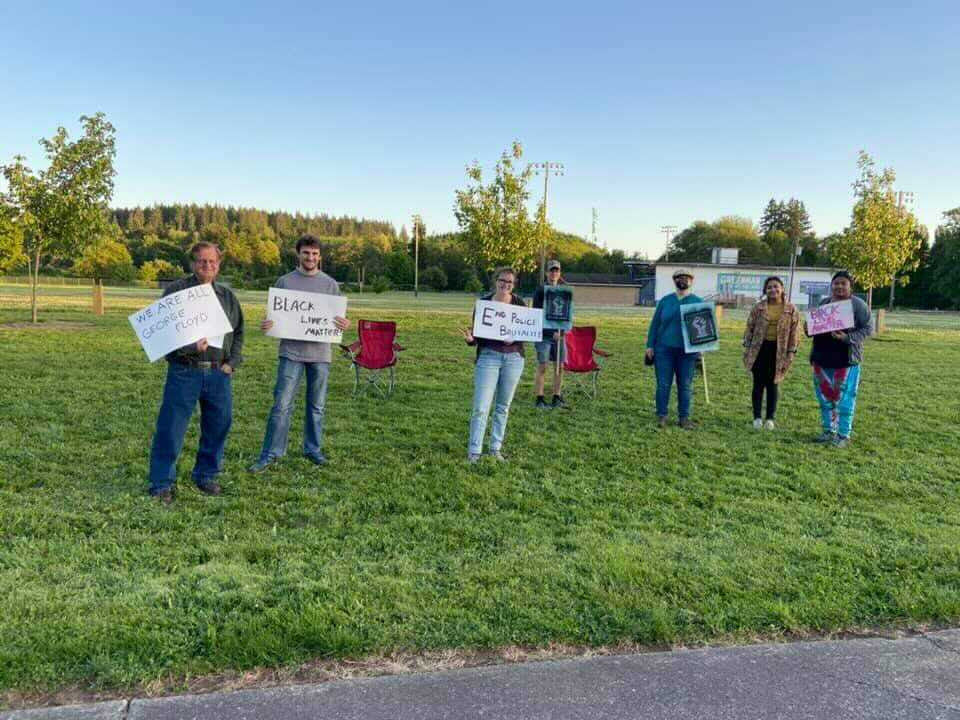 We implemented using clicker counters and a shared spreadsheet to track responses to our weekly demonstrations. We noted conversations with community members, and captured all reactions by people passing by and whether they had a negative, positive or unclear reaction. This helped us get a snapshot of how our neighbors feel about what we're doing, as well as opportunities to engage with folks we might not otherwise have talked to.
We held our first group meeting on June 16th, widening the network and allowing friends to invite friends.
At that first meeting we brainstormed and discussed how to do the work of racial justice and equality in Vernonia for the long term. We decided to focus on four different areas: 1) working with the City and local police to make Vernonia safer and more inclusive, 2) working with the Vernonia School District to educate our children about the history of racism in America and Vernonia, 3) creating antiracism education opportunities through art, and 4) hosting community conversations to talk about racism and how it impacts our community.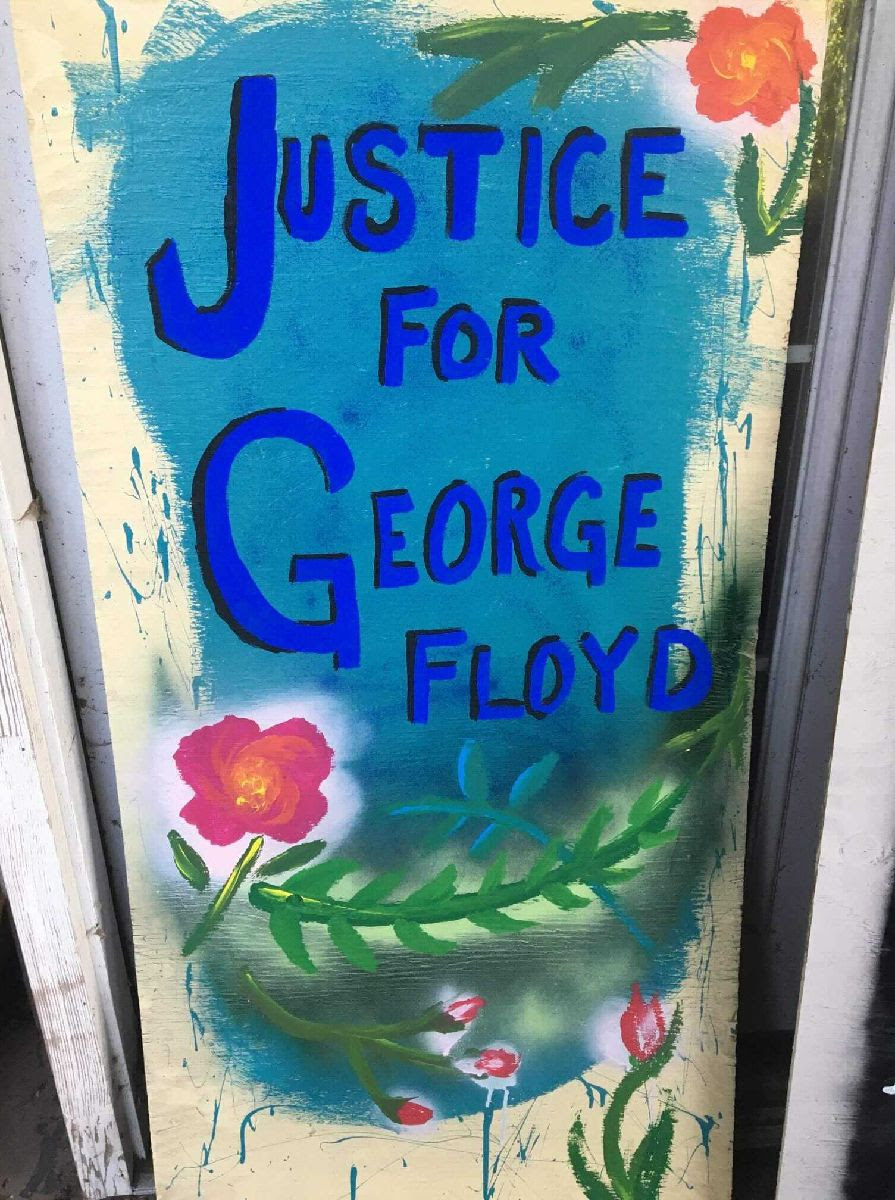 We decided to go before the Vernonia City Council to ask that an anti-racism resolution be passed. We wrote a statement and about 15 people came to support us as we read it aloud to the Council. We then did the same thing with the Vernonia School District. We reworded our statement and took it to a School Board meeting to read it aloud. While there was some disagreement when we first brought this idea forward, we received a lot of positive feedback from both the City Council and the School Board and began working with them in different capacities to outline our goals and achieve them.
In October, we wrote a first draft of the Equality and Inclusion Resolution with a committee of ten people (including five from the City and five from our group). We edited and refined the resolution before we brought it before the City Council for a vote. We held our first internal meeting as VERJ about hosting community conversations and how to implement that during COVID-19. During that time, we also began working with the Vernonia School District Superintendent to assist in choosing equity/inclusion curriculum for the school district.
The next big thing we are tackling is our organizational structure, visibility, and communication. Our group communicates internally primarily through email (which is very clunky, especially in a community where internet access is not accessible to everyone). Over several months, we started a Facebook page, and wrote our mission and vision statements. We desperately need to create a structure that has a good "step-in, step-out" component so that when someone needs to step away the group keeps functioning. We're still working on this!
On December 7th, 2020, the resolution passed with a unanimous 5 votes from the City Council! We were surprised and elated to see our City Councilors actively participating by adding to the resolution before they voted; it was a huge moment of victory!
We have been very fortunate. We have had some negative responses, but in the end they have been outweighed by the positive, and our City and school officials overall have been receptive to our concerns and requests for action.
One piece of advice we can offer to those who are receiving push-back on their calls for change is to focus on whatever your next move is. Have you approached community leaders yet? If not, your next move is to open a dialogue. Dialogue going nowhere? The next move could be protests or boycotts or publishing something in your local paper. Jot down ideas and strategies you hear from other groups, even if they don't seem relevant at the moment, you never know when it might become your next move! Make connections with all kinds of people–they might show you your next move. And no matter what, remember that the work we do is for the long-haul. We play the long game because we know structural change doesn't happen quickly or easily and people often resist things that are new and unfamiliar.
We have much to do still as we formalize our group, accountability structure, and communications. Since we plan to work on equality and racial justice in Vernonia for the long-term, we aim for visibility, transparency, structure and sustainability and we are happy to connect with other groups who are also working on equity at the city level!"
Let us know if you would like to connect and share strategies with the VERJ organizers by emailing monicap@rop.org. You can also follow VERJ on Facebook here. Is your group working on making your community more safe and welcoming for all? Let us know what you're working on and how we can support and share out your efforts!
————–
More about VERJ:
Purpose: Vernonia Equality & Racial Justice (VERJ), formed in 2020, is a volunteer-based organization focused on bias education and social justice work in Vernonia, Oregon.
Mission: We work for racial and social justice in Vernonia through education, open conversations, and active dissent to the impacts of white supremacy.
Vision: We envision a welcoming community that values a cooperative approach to safety, dignity, and freedom from discrimination.
About Us: After the death of George Floyd in May 2020, residents of Vernonia felt the need to stand in solidarity with worldwide protests against police brutality and held weekly demonstrations in Vernonia until November. The demonstrations sparked a movement within the community to advance equality and racial justice not just through demonstrations, but also local activism, education on racism and racial issues, and honest conversations. VERJ is a peaceful, community-oriented group of volunteers, working to ensure Vernonia is safe and welcoming for people of all walks of life.
————–
RESOLUTION No. 2020-17
A RESOLUTION OF THE CITY OF VERNONIA SUPPORTING EQUALITY AND INCLUSION
WHEREAS, The City of Vernonia strives to be a city based on mutual respect and understanding, part of a community that welcomes and values residents, treating everyone with human dignity and respect; and
WHEREAS, in response to national protests over racial injustice and police brutality against Black Americans in the summer of 2020, a group of concerned Vernonians approached City Council asking for a resolution addressing racism in our community; and
WHEREAS, TheCity Council designated members of staff and council to meet with an equal number of people from the group to develop a resolution that would address concerns; and
WHEREAS, the Mayor and City Council of Vernonia recognize that issues of racism, prejudice, and discrimination continue to exist in our country and our community; and
WHEREAS, all people, regardless of race, color, ethnicity, national origin, religion, disability, socio-economic status, sex, gender expression, gender identity, sexual orientation, marital status, appearance, or age, live and work together within Vernonia and bring pride to our community; and
WHEREAS, the City of Vernonia welcomes all people who recognize the rights of individuals to live their lives with dignity, free of racism, free of all forms of discrimination, intolerance, bigotry, and hostility.
NOW, THEREFORE, THE CITY COUNCIL OF THE CITY OF VERNONIA RESOLVES AS FOLLOWS:
Condemn hate, violence, and discrimination directed at any citizen or group based on race, color, ethnicity, nationality, country of origin, age, marital status, disability, religion, sexual orientation, gender expression or gender identity; and
Affirm the rights of all citizens to live free of violence or discrimination; and
Affirm our shared values of compassion, inclusion, respect and dignity; and our commitment to building an environment in which everyone is valued, while creating a safe space for conversations and learning opportunities; and
Commit to undertaking Diversity, Equity and Inclusion (DEI) training for all City Councilors and Staff and making said training available to citizens and local businesses and encourage community participation; and
Create a visible inclusion campaign for the community to inspire and remind Vernonians that we are united in our humanity; and
Support the creation of a new discrimination reporting system to collect data about discriminatory experiences in our community and foster an attitude of listening; and
Review discrimination and bias data quarterly to identify areas for improvement, measure outcomes and review this resolution annually for updates.
Note: the resolution PDF on the City of Vernonia website is missing 3 small language additions that were made when the resolution was finalized. They added "socio-economic status," "appearance," and "free from all forms of discrimination."