As communities across the state are experiencing harsh winter weather and housing remains unaffordable and scarce, many are feeling a growing urgency to address the housing crisis. Today we want to share the story of how Sweet Home organizers built a low-barrier shelter and resource facility, as well as statewide opportunities to advocate for housing justice this legislative session.
Are you excited to chat more with some of the folks highlighted below about organizing for housing justice? They will be at the Rural Caucus and Strategy Session on Saturday, May 20th, and are looking forward to connecting and strategizing with other organizers from around the state! You can register to join us in the Linn/Benton county area for the Caucus here. 
Sweet Home: Open Hearts, Open Doors
In Linn County, organizers in Sweet Home spent the last two years working on a low-barrier shelter for their houseless neighbors. The project was completed this January, and people have begun moving into the huts! 
It all began when a houseless woman came to Shirley Byrd's doorstep on a cold winter night in 2018, asking for assistance. Shirley searched for resources for this community member and was shocked to find that there was no shelter in the community at the time and that the warming shelter in nearby Lebanon only opens on nights when the temperature drops below 26 degrees.
Since then, Shirley started the Family Assistance and Resource Center (FAC), an organization in Linn County that serves people experiencing homelessness and housing instability. The FAC and other local leaders started conversations with the city council about the need for shelter for unhoused community members. Those advocating for the shelter were often met with resistance, but they persisted in explaining why the shelter was so needed in their community. They also visited other communities to see shelter models that had worked for them and brought back stories and details to show how the shelter could be a good thing for Sweet Home. 
After over a year of discussion with the city council and county government, FAC received three acres of land from Linn County. Once they had the land, many members of the community pitched in to make this project possible! Students in the advanced construction class at Sweet Home High School built all of the huts, and a hardwood store in the county donated many materials. FAC also received a grant from the Oregon Community Foundation to prepare the site.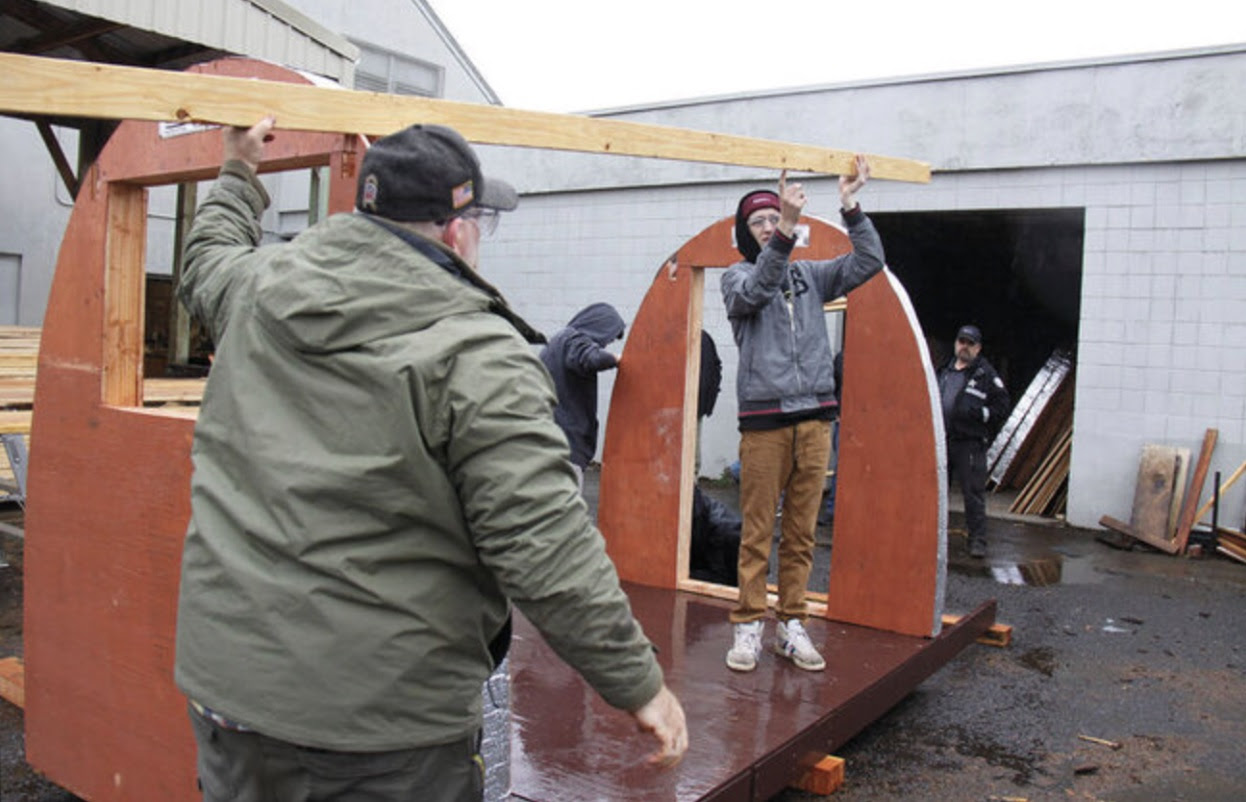 Within three days of opening in January, the first 22 huts were all filled, with 8 more huts still under construction. In addition to having a hut to live in, residents will also have access to on-site services and resources, including peer counselors, community health workers, and behavioral health specialists. FAC works with the nearby Western University of Health Sciences to run nutrition programs on-site, and medical care is available as well. A local doctor is going to have appointments available every week at the resource center on-site. That space also has a meal area, laundry room, and office space. The low-barrier shelter doesn't require residents to be sober, couples can stay together, and pets are allowed. For more information about everything going on at the facility, check out this article from the Albany Democratic Herald! 
What are folks in your community doing to make sure everyone has a stable home and the resources they need to survive and thrive? What do you want to mobilize around to address housing needs in your community? At the state level, Stable Homes for Oregon Families is a campaign in the 2023 legislative session to address the housing crisis. It proposes strengthening eviction laws to avoid preventable homelessness and suffering, limiting rent increases, and making sure accurate data about Oregon's housing providers is available through a landlord registration program. You can read more about Stable Homes for Oregon Families on their website. 
Passionate about housing justice but not sure where to start? Reach out to your friendly ROP organizer or email us at sidra@rop.org! And don't forget to register for the Caucus on Saturday, May 20th in Linn/Benton county area to strategize with the Sweet Home organizers and so many other badass rural Oregonians!