It is an ROP tradition to share our annual report with you at the end of each year to highlight some of the stories of powerful organizing for justice and democracy happening across rural Oregon.
We're so grateful for our community! To do all this work at this critical time we need your support. Thank you for joining with us and making a financial contribution today to continue to build strong and resilient rural communities across Oregon!
If you have already donated – thank you! It takes all of us doing what we can to continue this work at this critical time.
We're looking forward to celebrating 30 years of powerful rural organizing with you!
ROP is turning 30 years old and we're gearing up for a full year of celebration, building rural power, and strategizing for the next 30 years of rural organizing across Oregon! 2022 will mark the third decade since a grassroots network of rural human dignity groups joined together to fight a homophobic statewide ballot measure put forward by the Religious Right in 1992. Recognizing from the beginning that the struggle for LGBTQ+ liberation was (and continues to be) intertwined with the battles against racism, sexism, imperialism, and economic exploitation, human dignity groups decided to continue to work together as an ongoing network of rural freedom fighters even after they defeated Measure 9. Since then, we have built a network of more than 80 rural human dignity groups who push back against threats to democracy and organize toward a vision of communities where we can all live with safety, dignity, and justice!
We hope you will join us in celebrating 30 years and supporting our next 30 by:
Making a personally significant donation today by visiting our website at rop.org/donate or by mail at PO Box 664, Cottage Grove, OR 97424. We especially appreciate monthly sustaining donations we can count on!
Working with your local human dignity group to host the 30th-anniversary exhibit. Please reach out to us if you are interested!
Inviting your friends to join you at the exhibit and in supporting ROP!
Please make a donation today to help strengthen and prepare ROP for the next 30 years of work supporting a powerful network of groups who are creatively and courageously building stronger and more vibrant communities for a just democracy across Oregon – thank you!
BIG STATEWIDE VICTORIES MADE POSSIBLE by RURAL OREGON
Human dignity groups across 16 counties uncovered major legal loopholes that Immigration and Customs Enforcement exploited to use local law enforcement resources to detain and deport rural Oregonians despite Oregon's Sanctuary Law. Together with a coalition of allied organizations, we helped draft the Sanctuary Promise Act that closes those loopholes to ensure that the federal government can no longer use local public resources to tear families apart. In July, the Sanctuary Promise Act was signed into law and went into effect.
In addition to the Sanctuary Promise Act, six key policies the ROP network prioritized because they will help rural communities move from barely surviving to thriving were successfully signed into law. After human dignity groups drafted policy, wrote letters, and met with elected officials, together we passed the Childcare for Oregon Act, the Oregon Energy Affordability Act, the Drug Addiction Treatment and Recovery Act, and funding to expand broadband internet access.
---
BREAKING RURAL ISOLATION
ROP virtually convened hundreds of rural organizers and small-town community leaders for strategy sessions, the annual Rural Caucus, and living room conversations to develop local and statewide plans for the year.
---
ORGANIZING for SAFE & WELCOMING COMMUNITIES
Many new groups formed and launched campaigns to make local change out of the mobilizations for racial justice in 2020. Vernonia Equality & Racial Justice (VERJ) in Columbia County was formed during roadside Black Lives Matter demonstrations to advance campaigns for racial justice. VERJ's successes include working with the City of Vernonia to draft and adopt a resolution denouncing racism, discrimination, and police brutality against Black people, establishing a plan to educate city leadership on implicit bias and racial equity, and committing the city to collaborate on a bias incident reporting system.
---
In 2020, every county in Oregon mobilized to protest the murders of Black and brown people killed by police. In 2021, rural Oregon mobilized to respond to the murders of Black people by white vigilantes. After Aidan Ellison was killed in Ashland, the Truth to Power Club at Ashland High School hosted virtual anti-racism workshops and painted a mural at the school celebrating Aidan's life alongside other prominent Black, Indigenous, and people of color who have graduated from Ashland High School.
---
After Barry Washington, Jr. was murdered in downtown Bend, his white killer was immediately released by police with a minor charge of manslaughter. Central Oregon Peacekeepers and other groups organized vigils, rallies, and a successful campaign to push the district attorney to change the charge to second-degree murder. When a local TV station put a video of the attack on their website against Barry's family's wishes, the Peacekeepers coordinated a successful campaign that asked advertisers to end their contracts until the video was removed.
---
When Creswell's annual 4th of July parade was canceled due to COVID-19, Proud Boys and so-called patriot groups announced they would hold their own parade and statewide gathering. Community leaders who spoke out received threats of violence and the mayor resigned after out-of-towners mobbed her home. A week later, the community of Cottage Grove learned the same Proud Boys were eager to march in their town's annual festival parade. More than 100 business owners, service agencies, faith leaders, and concerned neighbors succeeded in convincing the festival's board to exclude the Proud Boys with a heartfelt letter campaign declaring hate has no presence in their community.
NEIGHBORS SHOWING UP for NEIGHBORS
Central Oregon Peacekeepers, Redmond Collective Action, The Helpers, and Central Oregon Democratic Socialists of America teamed up across three counties and the Warm Springs community to distribute necessities where unhoused communities were camping and mobile distributions for people that were living more remotely. They expanded to provide showers, trash pick-up, and vaccination clinics and used their success stories to pressure elected officials towards ending the practice of clearing out camps and instead ensuring the health and safety of unhoused community members, from trash service to managed camping.
---
Led by multiple community partners and volunteers, the food pantry at our Community Building Center in Cottage Grove shared food and supplies with more than 1,200 people every month.
Many of the recipients are refugee and migrant farm-working families systematically excluded from other services because of documentation requirements, language accessibility, and cultural competency. This program has successfully raised awareness of these barriers and several local agencies have changed their practices, hired interpreters, and adapted to better serve the entire community.
PRESERVING & SHARING RURAL ORGANIZING HISTORY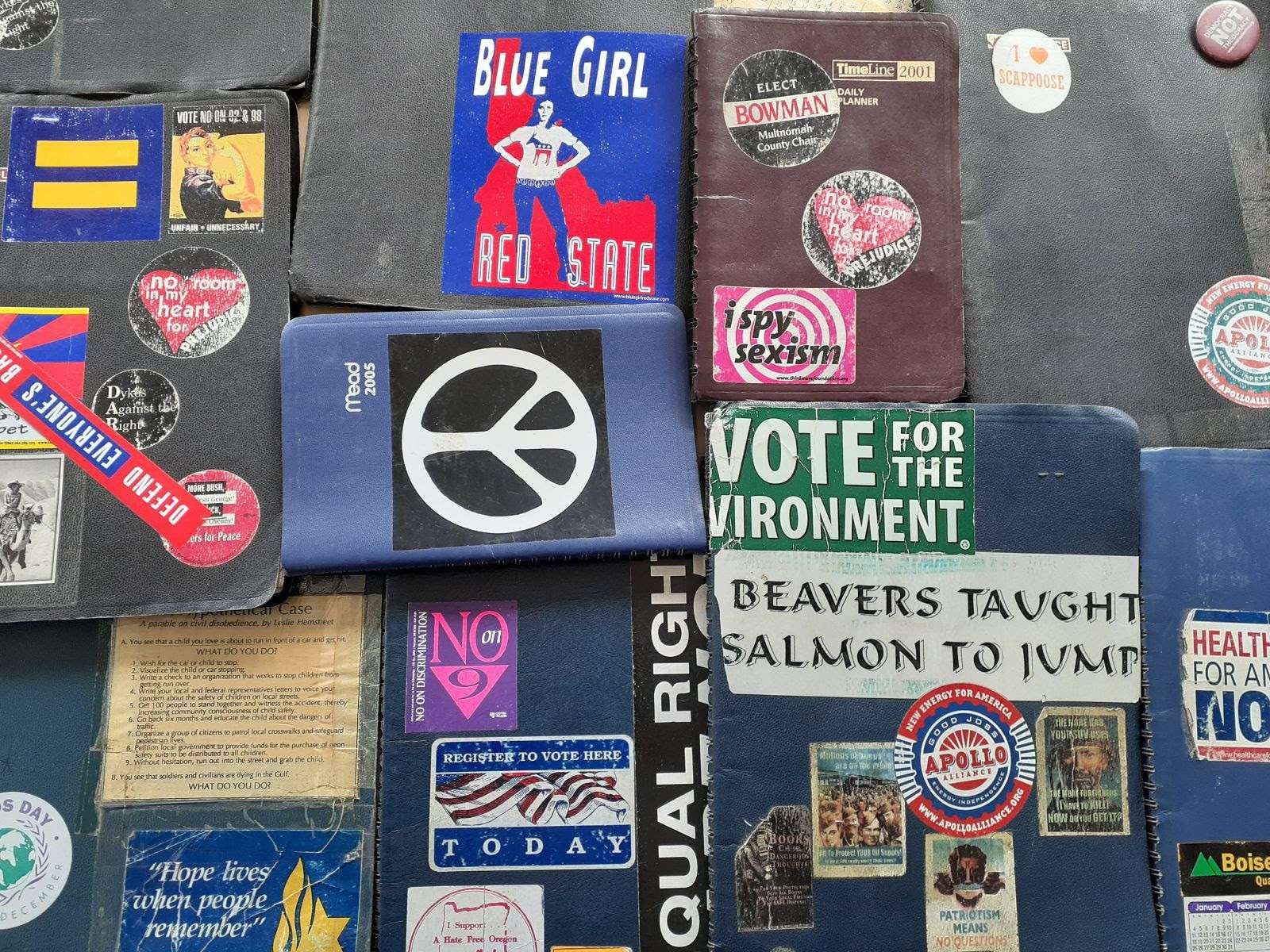 ROP is transforming our records of powerful community organizing into an archival collection! These unique materials will be featured in a traveling exhibit celebrating ROP's 30th anniversary next year, giving us all a chance to learn from 30 years of the ROP network's victories while strategizing what we can accomplish together over the next 30. Reach out if you'd like to see this exhibit in your town!
ADVANCING DEMOCRACY OVER THE AIRWAVES
In 2021, we completed the second season of Rural Roots Rising, our monthly podcast and radio show that broadcasts on 20 community radio stations across the state. Rural Roots Rising features rural organizers and media-makers who are organizing to respond to white supremacist violence, climate disasters, language accessibility, and housing crises. Listen to Rural Roots Rising wherever you get your podcasts or at RuralRootsRising.org!
---
With hope and gratitude,
Monica Beemer, Abelio Carrillo Chales, Jess Campbell, Kate Orazem, Monica Pearson, Emma Ronai-Durning and Emily Ruth
P.S.: Support this important work here. If you have already donated – thank you!