Over 150 rural organizers and community leaders from 28 counties convened on May 18th, 19th, and 20th in The Dalles, OR for the 27th annual Rural Caucus and Strategy Session! We started off the weekend with a Statewide Solidarity Action outside of NORCOR, the publicly funded jail that has a contract with Immigration and Customs Enforcement (ICE). People detained inside have gone on two hunger strikes since last May to demand more humane conditions and an end to the use of this public jail as a detention center.
We gathered to amplify the messages of the hunger strikers and the experiences of all immigrants, refugees, and asylum seekers detained inside. As we arrived and began the action, a GEO bus pulled in with detained immigrants and refugees from the NW Detention Center, the regional detention center in Tacoma, WA. GEO Group is a private corporation that is contracted to run the NW Detention Center and profits off of the detention of immigrants, as well as privatized prisons and mental health treatment.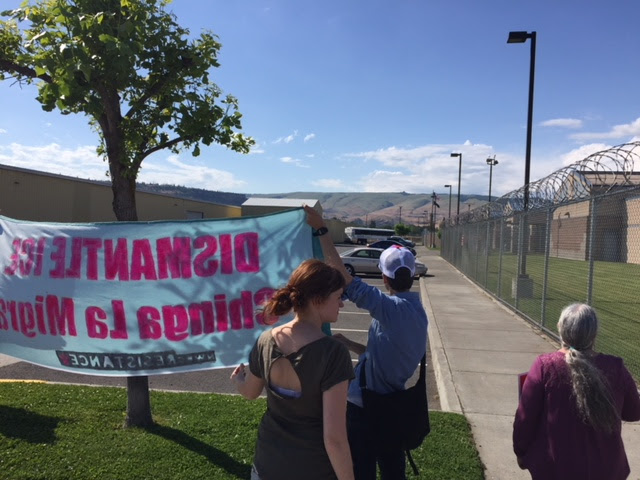 In the photo to the left you can see the bus holding 10 folks detained by ICE being transferred to NORCOR entering the facility.
Transfers to NORCOR are used by ICE to retaliate against organizers and leaders and to break strikes inside the NW Detention Center
. The arrival of yet more of our neighbors who are held indefinitely in detention made our strategy sessions feel all the more urgent, and centered our focus on the dire need to raise our voices in solidarity against the systems of detention and deportation. We were reminded that our voices matter, especially when we received a phone call after the action from a person who is detained at NORCOR who reported that they could hear our chants loud and clear inside NORCOR and they pounded on the doors of their pods in response.
That evening we broke bread and Maru Mora Villalpando of the Northwest Detention Center Resistance spoke, reiterating the collective power we hold and affirming how our movement is growing, building, and making a difference. We are sending a clear message that rural Oregon will not let the Trump administration use our public jails for an inhumane system of detention and deportation.
We will not stand idly by as a for-profit private detention system is built to hold millions of our neighbors and friends and as military bases are used to rip children from their parents and hold them in captivity.
During our community dinner and the next day in our strategy sessions, we expanded our vision and organizing plans, not only on how to get ICE out of NORCOR and out of all of our public jails, but on how to get ICE out of Oregon and to dismantle the unjust systems of detention and deportation.
Maru's words coupled with the news that folks detained inside NORCOR could hear our chants, reminded us of our moral call as leaders, activists, and organizers across rural Oregon: we can and we will protect human dignity.  
On Saturday morning, St. Paul's chapel was buzzing with excitement as people dug into a day full of opportunities to strategize together at the 27th annual Rural Caucus & Strategy Session. Over the next few weeks we will share summaries, ideas and next steps over ROPnet, but here are four exciting takeaways from Caucus strategy sessions:
1. Rural Oregonians have a critical role to play in dismantling the systems of detention and deportation. Continuing a legacy built by the Obama Administration, the Trump administration is trying to expand a private prison system to detain and deport millions of our neighbors. As that system is being built, ICE will be using public jails to hold folks in detention. The voice of rural communities is essential to push back against these plans because it will be our public institutions that will be used! We need to double down on our work at NORCOR, in Josephine, Benton, and Klickitat Counties, in Springfield and other rural communities to eliminate ICE contracts and coordination with local jails. Across the state, we can sit down with sheriffs to find out more about how they are (and are not) working with all the agencies related to deportation and detention and use public record requests to identify what communication local law enforcement are having with ICE and the Department of Homeland Security. We will fight to defend Oregon's Sanctuary Law from repeal (currently in circulation to be on this year's ballot) to build and strengthen our communities' resistance to detention and deportation.
2. We are committed to building safe and inclusive rural communities by working to take down cultures of white supremacy and making sure white nationalism cannot thrive. Communities around the state are fiercely resisting and coming up with creative solutions to counter increased visibility of white nationalist organizing and recruitment while building up community resilience and collective care in the process! From offering watchful hospitality at community events centered around social justice to educators working within schools and school districts, we are doing rural political education that builds power for the long haul and will shift the cultures in our communities toward justice and inclusion! City Councilors took away tools and resources to proactively name that their community will not tolerate white nationalist activity.
3. Mutual aid and community care are essential to building and sustaining our movement.
This year the Caucus featured a Healing Space and activities created and tended to by rural Oregonians rooted in the principles of mutual aid and caring for ourselves and each other. The Caucus also held Political Art space facilitated by Linn County artist Brian Heath where folks could come paint posters, t-shirts, banners, and bandanas with stencils that center Rural Resistance!
Sunday's People's Movement Assembly dug even deeper into how we can work together to respond rapidly within our communities to crises and opportunities, from ICE raids to forest fires. At lunch, our rapid response skills were put into motion after participants noticed swastikas carved into the lunch tables and leaders in the Gorge mapped out a plan to respond. In the closing moments of the Caucus weekend, we left knowing our energy and commitment are needed, that we have each other, and we have what we need to do this work!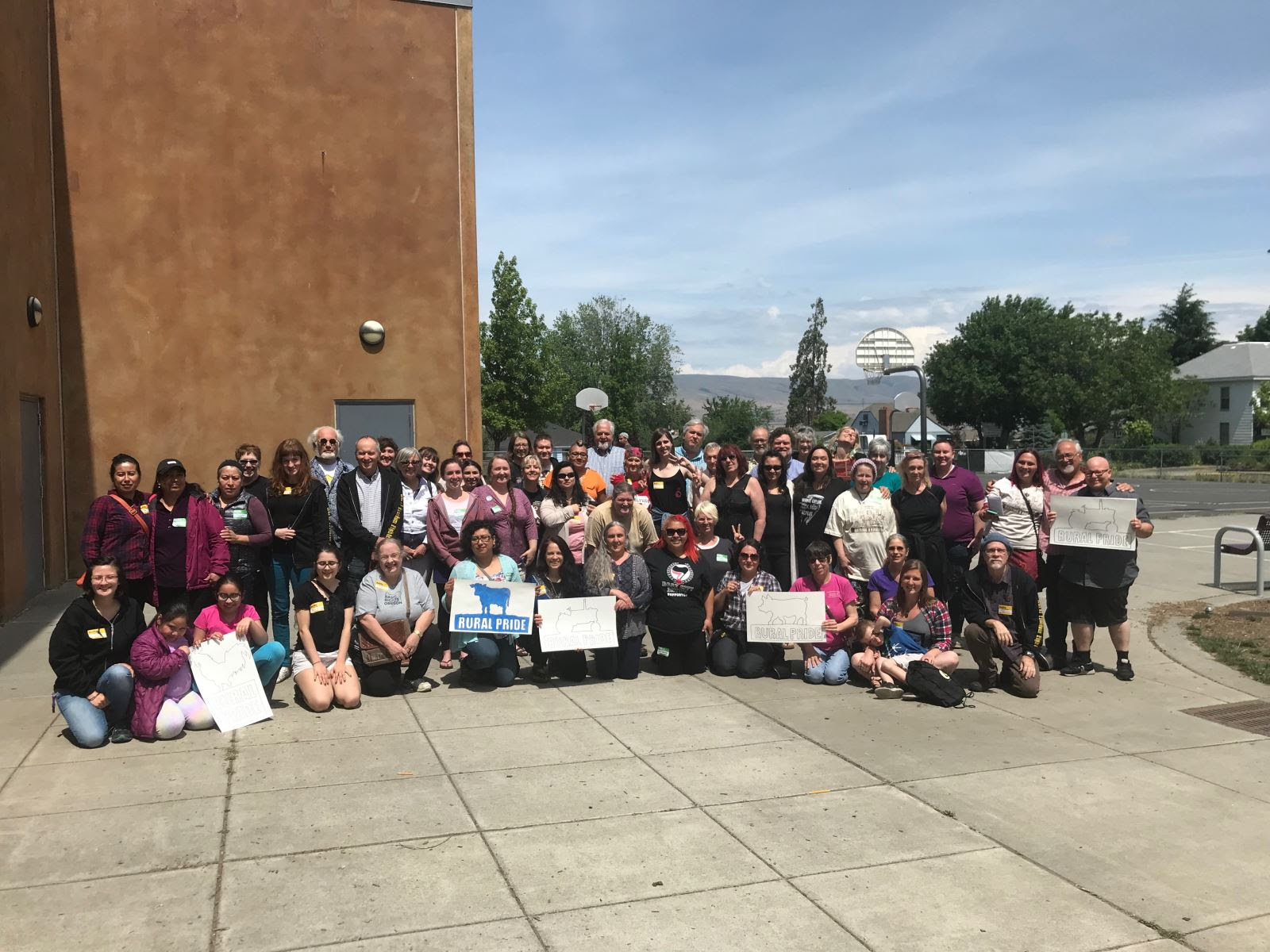 Stay tuned over the next few weeks as we send out more updates, outcomes, and ideas coming from this year's Rural Caucus & Strategy Session to share our work and collective impact across rural Oregon in the months and year to come!