June 26th, 2018
Dear ROPnet, 
In the wake of anti-democratic Executive Orders, where over 3000 children have been ripped away from their families at the border and 123 immigrants and refugees have been locked up in Sheridan federal prison in Yamhill County, rural Oregon is responding! Communities are taking action to en
d indefinite incarceration of immigrants and refugees.
Join human dignity groups across the state and Rural Organizing Project for:
Oregon's Rural Week of Action: Resisting Detention and Deportation
Join us during the week of July 4th to demand freedom for all immigrants!
Oregon's Rural Week of Action is joining movements across the nation to demand an end to detention and deportation. Read on for more details on action opportunities.
Email cara@rop.org with details about your community's event and we'll share with others around the state.
Why are we taking action now?
Last Wednesday, after immense public pressure, Trump signed
his latest executive order
to keep families incarcerated indefinitely, claiming to fix the problem that he had created of separating families at the border. Families are ripped apart every day when ICE detains parents from their homes or workplaces and locks them up in private detention facilities, local jails, and federal prisons. This new executive action has done nothing to stop the incarceration of thousands of immigrant and refugee families, and nothing to reunite those already separated. In addition, the Trump administration has created a plan for restructuring the Federal Government that includes privatizing public programs such as the US Postal Service, reducing funding for health care, raising the rent in public housing, and combining Departments of Labor and Education so as to weaken both. Rural Oregonians refuse to stand idly by as our democracy is dismantled through privatization, secret police, and mass detention.
Rural Oregonians are successfully organizing to remove the threat of ICE in communities across Oregon.
Last night, over 250 local activists and community members attended and testified at the Springfield city council meeting where the city council voted unanimously to end their local jail's contract with ICE.​
In Josephine County, organizers successfully engaged their sheriff, who has stated that he has ended their local jail's ICE contract.
At NORCOR in The Dalles, the administrator who expanded the 4-county jail's contract with ICE just submitted his letter of resignation. Local groups across the Gorge are organizing to ensure that the ICE contract is also ended once and for all!  
Occupy ICE PDX shut down Portland's ICE facility and has been holding vigil there since June 17th. The movement is now spreading to other ICE facilities across the country.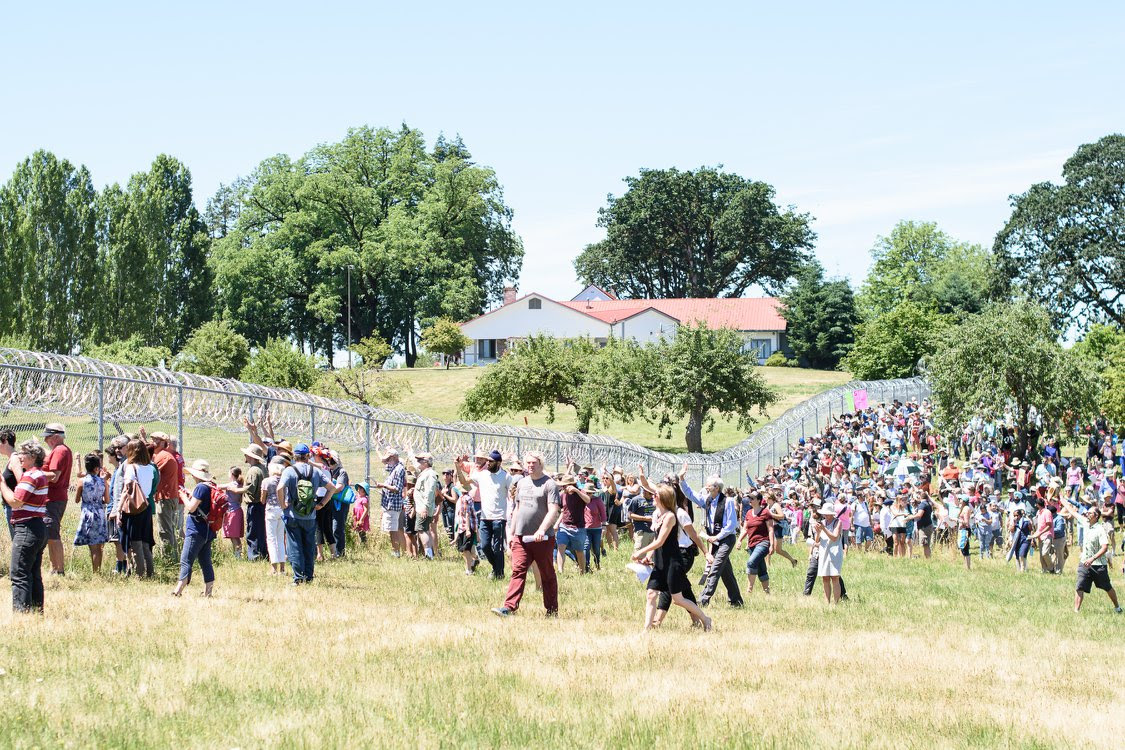 At Sheridan federal prison in Yamhill County,
it has been over three weeks since the news broke that ICE imprisoned 123 immigrants and asylum seekers, and lawyers and clergy have been continually denied access.
On Sunday
 over 700 people gathered outside Sheridan federal prison for
Sunday
morning worship led by Christian clergy and shared in a langar, a communal meal, organized by leaders in the Sikh community.
On Monday
 morning, ACLU on behalf of Innovation Law Lab and Luis Javier Sanchez Gonzalez, who is currently detained by ICE at Sheridan, won a critical victory for those detained at Sheridan federal prison.
A federal judge ordered the government to allow lawyers in!
They will make their first visit
on Tuesday
. In addition, the judge ordered phones to be added for detained people to make legal calls, interview rooms to be made available, and for the government to halt immigration proceedings until after each person detained by ICE has had a chance to learn about their rights and meet with a lawyer if they choose. The judge also ordered that Innovation Law Lab's team must be allowed to give group "know your rights" presentations, granting access to information about legal rights required for all people detained by ICE. Finally, the judge added that the people detained at Sheridan cannot be transferred out of the state of Oregon without permission of their attorney or of a judge, in order to prevent ICE from transferring folks and further preventing access to legal counsel.
These are things to celebrate, and there is so much more to do. The NORCOR jail continues to hold a contract with ICE (for now!), Sheridan federal prison still holds over 100 people detained by ICE, and many other local law enforcement offices across the state continue to work against our values of safe and welcoming communities by communicating and collaborating with ICE.
Many in our communities do not know that ICE has such a large presence in Oregon or that our public institutions continue to use tax dollars to inhumanely detain immigrant and refugee families. Others may assume that the Executive Order solves the problem of family separation. With the incredible national outcry against the separation of families exposing the US's inhumane systems of detention and deportation, we have a window of opportunity to have conversations with our neighbors and organize towards an ICE-free future! Now is the time for our movement to send a loud and clear message: rural Oregon demands an end to the inhumane system of detention and deportation!
Here are a few tips for planning your event during Oregon's Rural Week of Action:
Create local visibility about on-going detention and deportation: Plan an action on a busy street corner, in front of your courthouse, or join your local 4th of July Parade!
Organize an action in solidarity with Mijente

who will be holding actions in San Diego on

July 2nd

, the day mass criminalization of parents and migrants is supposed to ramp up.

Create your group's own action or event anytime during the week of the July 4th holiday.
Prepare for your action with great visuals and get the word out!
Make an announcement about your event and share it on social media with your group's list of supporters and other groups around your county. Be sure to send your event details to cara@rop.org

and we'll share it on facebook.

Make signs: "Freedom for All Immigrants!" "De-ICE ____ County" "ICE out of Sheridan federal prison, ICE out of NORCOR jail, ICE out of Oregon!" "I have 'zero tolerance' for caging children or parents" "All detention is separation"

Bring a clipboard to sign up new members.

Include a plan for a meeting to follow up the action; bring a flyer to your action invite attendees.
Use your action to build and grow your local group and the local movement to end all contracts and communications with ICE – plan a follow-up gathering!
Hold a follow-up meeting with newly engaged folks to develop next steps. (Contact ROP for support planning this meeting).

Hold a letter writing night and send letters to your local paper, state, and federal congress people.
The strategy of the Rural Organizing Project has always been to build a beloved community for social justice in rural Oregon. These actions build off of the incredible work of local groups across Oregon fighting to end local jails' contracts with ICE and end communication between local law enforcement and ICE. Our actions around the state next week will build visibility in our communities. Over the next weeks and months ROP will continue to share campaign tools and strategies for ending contracts and communications with ICE in every local community in rural Oregon!
Warmly,
Cara, Emma, Cathy, Caroline, and the ROP Team