Thanks to generous support from donors, ROP has expanded our ability to support human dignity groups and community leaders across the state! We are thrilled to introduce you to our two newest team members, and to announce that we are hiring a Communication Coordinator! Read on to meet Abelio and Emily, and please help us get the word out about this exciting new position at ROP!
Since April 2020, hundreds of volunteers and more than 60 community organizations, service agencies, service clubs, faith communities, and businesses joined together to share culturally relevant foods, COVID safety supplies, and outdoor survival supplies with thousands of people in Southern Lane County and Northern Douglas County each month. Based out of ROP's Community Building Center in Cottage Grove, our community food pantry is open every single Tuesday and Thursday for socially-distanced shopping without barriers or limits through COVID shutdowns, wildfires, freezes, power outages, holidays, ICE activity, the worst COVID-19 infection rates in the state, and sweeps of encampments where people are living.
Together we formed this community food pantry because people most impacted by public health and economic crises that they weren't getting what they needed because many of the longstanding options for food and many community services were requiring documentation like proof of address, proof of income, ID, a social security number, and agencies were only able to speak with clients in English. By building a new model in South Lane County focused on eliminating barriers to access within our pantry and in the broader community, other organizations and agencies have reduced their barriers to access. Now our model is being shared across Oregon and beyond as an example of what a thriving rural community food resource can look like!
We are thrilled to share that we have grown the ROP staff team to include Emily Ruth as our Pantry Manager and Abelio Carrillo Chales as our Community Resource Organizer! If you recognize Abelio's name or face, it's likely because you've talked with him as he provides interpretation into Mam, Spanish, and English, and we are over the moon that he joined our team full-time in October! Emily and Abelio work together with dozens of amazing volunteers in every aspect of running the pantry program.
Please join me welcoming Emily and Abelio to the team by sending them welcome emails at emily@rop.org and abelio@rop.org! Bonus points: are you near Cottage Grove and want to volunteer in the pantry? Reach out to Emily at emily@rop.org!
Meet the newest ROP staff!
Emily Ruth (she/her) joined Rural Organizing Project in July to expand the pantry program at ROP. Before coming to ROP, Emily worked with children and families in a number of social services settings, including medical clinics, schools, and community programs for asylum seekers. Emily graduated from the University of Oregon in 2010 with a Bachelor of Arts in Psychology, minoring in World Religions. When Emily isn't in the pantry, she loves cooking delicious meals, getting outside to hike and enjoy hot springs, and playing with her sidekick, Frida the dog. Send Emily an email at emily@rop.org.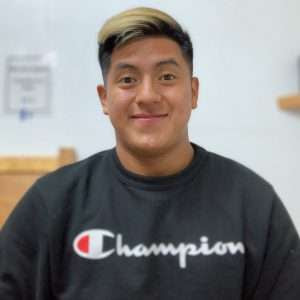 Abelio Carrillo Chales (he/him) first worked with ROP when he interpreted a letter from a local police chief explaining that the department will not work with Immigration and Customs Enforcement into Mam, an Indigenous Guatemalan language that is only spoken. For the last year, Abelio has worked at ROP's food pantry and resource-share in Cottage Grove, interpreting between English, Spanish, and Mam and expanding the ability of the pantry to serve migrant and asylum-seeking community members. Since hejoined ROP staff full-time in October as a Community Resource Organizer, Abelio has served as one of the few Mam speakers in the entire state who are supporting migrants and asylum seekers to access the Oregon Worker Relief Fund. When he isn't busy keeping the ROP pantry running smoothly and supporting families accessing community resources, Abelio enjoys traveling the state playing soccer, drawing, and spending time with his family. You can email Abelio at abelio@rop.org.
We're hiring a Communication Coordinator!
Please help us spread the word about our newest position at ROP! We are seeking a full-time Communications Coordinator to be the chief messenger for ROP as we work to build and strengthen the rural movement for justice. The Communications Coordinator would lead the staff in building integrated, dynamic communications that strengthen the ability of locally-rooted human dignity groups to contest for power locally and collectively as a statewide network.
The Communications Coordinator will be responsible for leading the development of and supporting the implementation of communications strategies that advance rural narratives that challenge the dominant narratives pushed by the Right about rural Oregonians, our values, and our vision for the future. The Coordinator will engage members and supporters through all forms of communication, including social media, print, audio-visuals, radio, and traditional media.
About the Position
Roles and Responsibilities:
As a staff team member, you will develop a messaging framework and write stories, develop content, manage our website and social media, support a radio series, and write press releases and reports including the organization's annual report.
Build communications capacity within a collaborative staff team: Manage, write, design, and publish public-facing materials for ROP's programs, including mailings, event flyers, email newsletters, web, and social media content, press communications, photography, artist engagement, audio production, and videography.
→ Support narrative and messaging development led by human dignity groups about what is happening across the state as well as storytelling that supports organizing opportunities in these communities
→ Manage ROP's digital organizing and storytelling programs, including creative content development for social and digital media, arts, culture, and other vehicles at the intersection of organizing and narrative
→ Support the production of Rural Roots Rising, ROP's radio show and podcast, and strategically build narrative power through radio from the foundation of our relationships with more than 20 community radio stations across the state
→ Develop an annual communications work plan rooted in the goals and capacity of the ROP staff and volunteer teams, and work with staff to carry out and adapt this plan
→ Support the organizing team in creatively engaging member groups in key program areas by coordinating organizational communications systems, digital organizing tools, community media, conference calls, webinars, and more
→ Support the staff team to expand the organization's fundraising presence by co-creating stories, digital engagement opportunities, direct mail communications, and creating other development materials
→ Support the Archivist in creating materials to expand digital and in-person access to our historical records of rural community organizing over the last 30 years
→ Build meaningful relationships with communications and outreach staff at allied organizations, as well as reporters, spokespeople, and organizers across rural Oregon
→ Create and implement evaluation tools to analyze our impact and lead the team in adjusting accordingly to effectively shift narratives in and about rural Oregon
Build communications capacity across a statewide network: Develop narrative, messaging, and communications materials to support ROP's campaigns, organizational vision, and the engagement of autonomous human dignity groups
→ Build human dignity group leaders' capacity to garner earned media by providing training and support around developing spokespeople and fostering traditional media relationships
→ Be a resource to support ROP's network of autonomous human dignity groups in building up their communications capacity as directed by the organizing team
→ Develop resources and support human dignity groups to be prepared to use values-based communications strategically as an organizing tool in emergencies, quickly emerging situations, and actions
→ Travel as necessary to capture stories of organizing within and across human dignity groups and communities
Time Commitment
This position is full-time and exempt, with an average commitment of 40 hours per week required. As exempt, this position is not entitled to overtime pay, and ROP has practices in place to ensure that employees are working sustainable hours.
The Communications Coordinator needs to live in Oregon. This position is predominantly remote but includes some travel to work with human dignity groups across the state, to participate in quarterly staff retreats (when COVID allows safe travel and social interactions), and to support a number of statewide convenings throughout the year. Flexibility in hours is needed to support rural leaders, including nights and weekends as needed.
Salary, Benefits, and Staff Resources
Salary is $48,000-62,000 annually based on experience: $48,000-55,000 for 3-5 years communications experience in an organizing context, $56,000-$62,000 for 6-10+ years communications experience.
Excellent staff benefits including:
→ 100% coverage of health, vision, and dental care premiums for a low deductible gold-tier healthcare plan that covers providers in every county in Oregon
→ Vacation time that starts at 10 days the first year, 15 the second year, and 20 the third and following years
→ 12 paid sick days per year and paid holidays
→ 12-week paid sabbatical after five years of service
→ Employer matched IRA
→ Staff development budget for initial and ongoing training and support
→ Budget to set up an ergonomic home office and/or to rent and establish an office in their rural community
→ Relocation support for out-of-state hires moving to Oregon
Staff have access to a pool of well-maintained ROP vehicles, travel per diem, and we have caregiver travel policies to support staff who are primary caregivers that cover the costs of additional care providers at home or on the road. All staff are provided the technology needed to perform their job duties including phone, computer, ergonomic furniture, audio recording equipment, etc.
About You
Required Qualifications & Experience
→ Demonstrated ability and capacity to develop communications strategies that activate, organize, and move people into action for change
→ Experience and enthusiasm for working with, taking direction from, and building power for the long haul with frontline communities
→ The ideal candidate will be an experienced and capable writer and editor, an enthusiastic storyteller who is comfortable creating content, receiving, and responding to feedback with the goal of furthering the ROP's organizing goals, voice, and identity.
→ Ability to support staff in dynamically using digital organizing tools to support organizing, archives, fundraising, and other organizational goals. The ideal candidate will be familiar with the future of digital organizing in campaign structures.
→ Deep experience in community organizing and facilitating, supporting, and participating in collective decision-making processes
→ Demonstrated ability to take initiative and offer critical thinking, direction, and processes to address challenges
→ Ability to lead the development and implementation of an annual communications work plan
→ Experience with popular education methodologies
→ Familiarity with or a hunger to learn systems that manage ROP's digital infrastructure, including WordPress, Canva, CRMs, Zoom meeting, and webinar production, Adobe Suite
→ Demonstrated knowledge of basic graphic design principles and tools
Desired Skills and Qualifications
→ Verbal and written fluency in Spanish
→ Experience working with community radio or producing audio content
→ Advanced graphic design and layout skills
Application Instructions
The deadline to apply for this position is January 21st. To apply, please email the following to jess@rop.org:
→ Letter of interest
→ Resume
→ Three references
→ Work samples that demonstrate your writing, visual skills, spokespeople training, and/or a communications plan you have developed in the past (these work samples will not be used by ROP and will be deleted after the position is filled)
→ The following application:
1. Why are you interested in working with ROP? What do you hope to learn from working with ROP and human dignity groups?
2. What experience do you have with community organizing? What organizations have you been involved with and what was your role?
3. What do you feel you can bring to the work with rural Oregonians and why?
4. Please share two examples from your communications experience in an organizing context that demonstrate your approach, philosophy, or beliefs about communications when organizing with communities facing inequity and injustice.
5. How do you feel you meet the skills and qualifications criteria? What strengths do you most have to offer to ROP as part of our staff team?
6. What systems and tools do you use to keep yourself and your work organized?
7. If hired, how long would you be willing to commit to working at ROP?
Rural Organizing Project (ROP) is an equal employment opportunity employer. ROP prohibits unlawful discrimination against any employee or applicant for employment based on race, ethnicity, religion, sex, gender identity, age, national origin, genetic characteristics, disability, status as a special disabled veteran or veteran, marital status, sexual orientation, sexual identity, or any other basis prohibited by law.
About Us
Rural Organizing Project (ROP) is a statewide organization dedicated to building the capacity of human dignity groups to do the long haul organizing of creating communities that uphold a standard of human dignity: the belief in the equal worth of all people and the need for equal access to justice. Our mission is to strengthen the skills, resources, and vision of primary leadership in local autonomous human dignity groups with a goal of keeping such groups a vibrant source for a just democracy. Founded in 1992, we are about to celebrate our 30th anniversary of building and strengthening the rural movement for justice with our network of more than 80 human dignity groups in 33 of Oregon's counties and thousands of individual community leaders, organizers, and supporters in every corner of the state.
A national struggle is underway for the hearts and minds of rural people, and Oregon is on the frontlines. The overlapping crises of COVID-19, wildfires, other climate disasters, and lack of housing on top of generations of neglect and disinvestment have exposed massive gaps in the infrastructure that communities rely on to survive, such as libraries, schools, hospitals, broadband internet, 911 dispatch, and local media. The temperatures in rural Oregon are rising, both literally and metaphorically, and communities that are struggling to keep each other above water are stuck in the confluence of anti-democratic movements that aim to weaponize their communities' lack of security and stability to pit neighbors against each other. ROP, our ever-evolving network of human dignity groups across the state, and thousands of community leaders have hope and an unbreakable resolve that together we can build stronger communities rooted in the values of democracy, human dignity, and economic, racial, and social justice.