This year is ROP's 25th anniversary and guess how we've been celebrating? With the largest Rural Caucus & Strategy Session in ROP's history!
On Saturday, June 3rd, over 160 people representing 31 of Oregon's 36 counties gathered for a day of making connections with peers across the state while strategizing, visioning, and building our movement across rura
l Oregon for the long haul. Find more photos from the weekend below!
We kicked off our morning with a welcoming from ROP's own Co-Director, Jessica Campbell, which included an overview of what rural communities have faced in the last year and the powerful acts of resistance and resilience across rural Oregon in response. We then took time to pass the mic and share stories about the impactful organizing that has happened around the state since we last gathered a year ago.
We cheered as folks around the room raised their hands to show that their communities had participated in actions in solidarity with Standing Rock, in response to hate crimes, and some participants shared how they had organized the largest marches and town halls in their town's history! Over the last year, rural Oregonians also fiercely resisted the state-sponsored terrorism and deportation of our immigrant neighbors, showed statewide rural solidarity with the powerful Native and Indigenous organizing at Standing Rock, and built beloved community in the midst of crisis by keeping each other safe in the face of rising state and vigilante violence. Whether it was amplifying the demands of immigrants detained by ICE at NORCOR (Northern Oregon Regional Correctional facility) in the Gorge who went on hunger strike, or building support for a city or county inclusion resolution,
rural Oregonians have put stunning organizing on the map!
Stephanie Guilloud of Project South, in her keynote "Dignity in a Time of Crisis," brilliantly tied our shared stories of rural organizing in Oregon to their work for justice in the South. She shared examples of innovative movement building from Project South and strategies for how we build community infrastructure that puts people first. Steph started out by asking, "what do we need to understand about this moment?" to remind us that in the fight for human dignity, we cannot afford to ignore nor be distracted by the President's twitter circus while our entire social fabric is being dismantled behind the curtain. We need to be tracking what happens at the Federal level, we need to do our important work organizing on the ground, and we need to focus on local governance, including holding our local elected officials accountable, as well as winning and maintaining local government seats. The Right has been and will continue to work to win those same seats. We need to reclaim our local safe spaces, such as churches and libraries, and organize to maintain our values in order to keep what belongs to all of us, for all of us.
After hearing from Stephanie, it was our turn to map a vision for our local communities. We broke out into Congressional Districts, and then into small groups. Every single Caucus attendee collaborated in creating a vision of community resilience for our towns. We covered the walls of the Fellowship Hall with ideas about what needs to be protected and built in our communities to maintain long term viability. From rapid response teams to keep people safe from deportations, to access to healthcare for everyone, the notion of a resilient community began to feel localized and tangible. After thinking collectively about these goals on a local level, we reconvened as Congressional Districts to discuss how these visions could be won by collaborating within political regions.
More opportunities to strategize together filled up the afternoon with innovative thinking on all sorts of projects. In his keynote "Hearts Open and Minds Set on Freedom," Tarso Luis Ramos of Political Research Associates emphasized the national role that Oregon plays as a testing ground for the Far Right. Tarso explained how the Far Right is gaining ground in Oregon and across the country as part of a global movement to dismantle what we have been building in the decades since the Reagan years. This includes hard-won victories of basic human rights, such as freedom of expression, of movement and of being one's self, as well as having a dignifying job with livable wages. So much of what once stood in the way of the Right no longer exists. What we do right now in
rural Oregon to resist and to build a future of dignity for all impacts not only our small and rural towns, but people all over the world. Tarso offered three actions: Defend, Build, and Lead with "Hearts Open, and Fists Up" because Oregon is in a state of emergency. He called on us to envision new forms of organizing and take leadership in uniting urban and rural efforts, because we need to work together to meet the challenges facing our communities. We need to protect and create the kind of hometowns we can all stay and thrive in for the decades ahead.
Our afternoon was spent in workshops and strategy sessions, where we dug deep into the issues that are most impacting our rural communities. Together we learned about immigrant rights and the ways that we can build strategic relationships to create safety for our immigrant neighbors. We strategized about how to out-organize the right, build a culture of safety and security into our organizing, and take care of each other while doing it so we can keep organizing for the long haul. Check out the end of this email for photos of the afternoon sessions!
After a full day of sharing stories, strategizing, and putting our heads together for our collective future, we closed our time together with a party to remember! Gathering outside for live music and toasts, we were ecstatic to join with new and old friends to celebrate our shared history of resistance and resilience in rural Oregon. After dinner, we learned how to contra dance together to live music, or at least learned how to laugh together while trying. ROP truly celebrated our 25th birthday in style!
On Sunday, nearly 100 people joined us for our 2nd annual Rural Organizing Institute where participants broke into three tracks: Rapid Response Teams; Changing the Story: Messaging, Media and Communications for Justice; and Grassroots Organizing.
We were thrilled with the record turnout for this year's Caucus. It is clear that that this is a year that has made us all realize how much we need each other. But beyond the numbers, we also came away from the Caucus with something immeasurable: deepening solidarity, greater confidence that we have each other's backs, and a sense of home in the connection we feel across rural Oregon.
Want to know more about what came out of the strategy sessions? Contact ROP or stay tuned over the next few weeks as we share additional highlights over ROPnet.
2017 Rural Caucus & Strategy Session in Madras
In the morning, we got together in Congressional Districts to discuss our vision of community resilience
Afternoon Strategy Sessions and Workshops
…PARTY!!
Michael and Mer from Lincoln County share their movement folk songs
Community leaders toast to 25 years of rural resistance!
Contra dancing!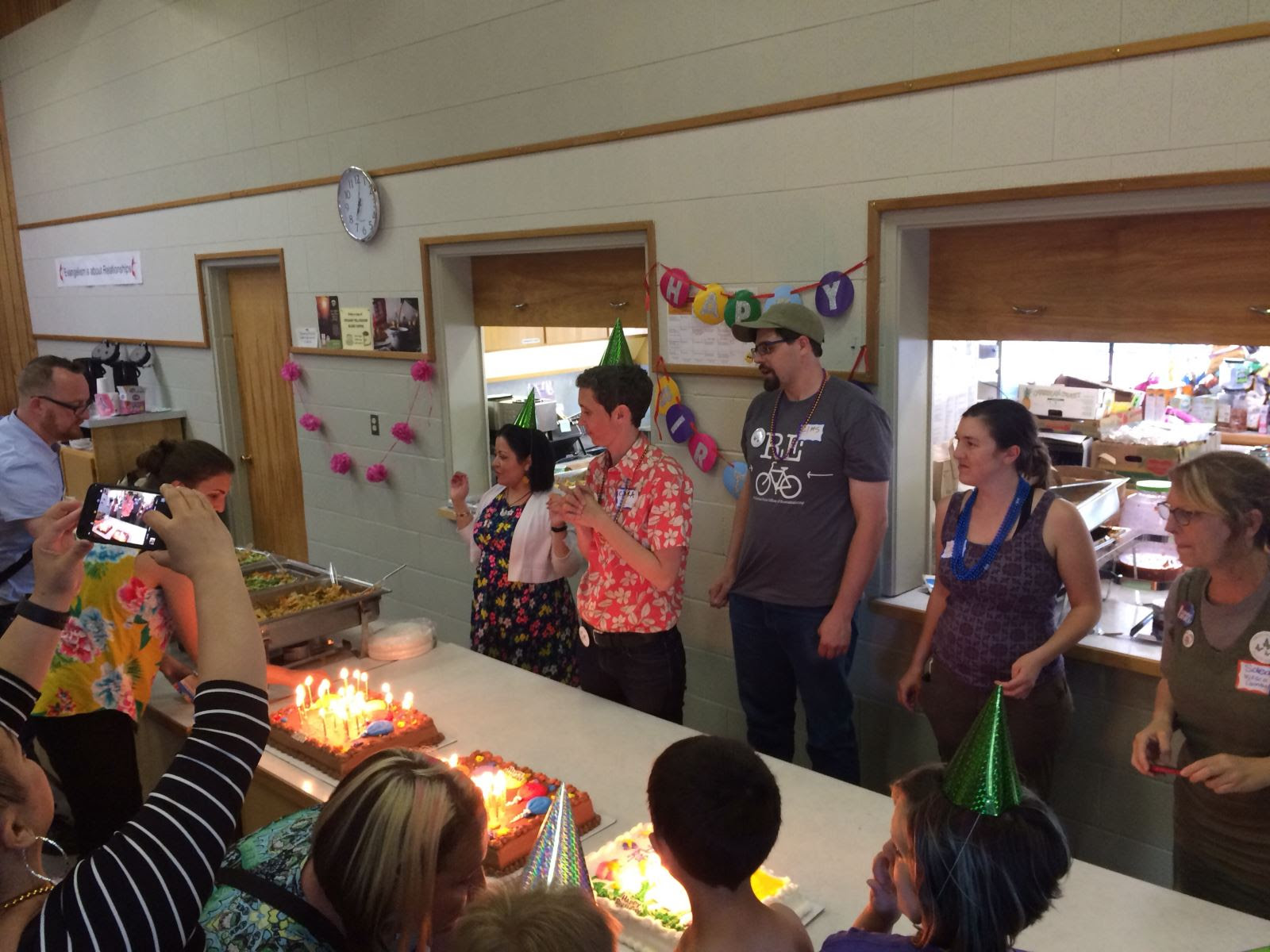 Angus Maguire from Center for Story-Based Strategy presents Changing the Story: Messaging, Media and Communications for Justice at Sunday's Rural Organizing Institute