As school boards across Oregon receive homophobic and transphobic pushback for implementing basic safety and resource measures for LGBTQ2SIA+ students, we wanted to share and reflect on two stories of powerful rural Pride events human dignity groups organized in Wallowa and Harney Counties last summer. At the beginning of June, organizers hosted Pride at the Nez Perce Wallowa Homeland Project's Dance Arbor in the town of Wallowa, making it possible for some queer youth to walk to their first Pride ever! In July, Rural Alliance for Diversity (RAD) brought 50 people together for the second year in a row in Harney County and got published on the front page of the Burns Times-Herald for their great work. Read on for the full stories!
Are you building queer community or organizing in support of rural LGBTQIA+ people? Not sure how to start taking action in your local community? Reach out to us by emailing emma@rop.org to let us know what you are up to, or for support in strengthening your organizing.
Rural Pride in Wallowa County
On June 5th, more than 70 people participated in the LGBTQIA+ Pride festival at the Nez Perce Wallowa Homeland Dance Arbor in Wallowa, Oregon. This celebration was sponsored and organized by the LGBTQIA+ Advisory Council at Safe Harbors, a human dignity group serving people affected by intimate partner violence, sexual assault, and stalking. The event was made possible partially thanks to donations from Safe Harbors' showing of the OUT! Dance Project, a queer dance and story performance created by rural Oregonians that was performed across rural Oregon earlier this year!
The celebration included a queer descendant of Chief Joseph of the Nimiipuu (Nez Perce) who gave a land acknowledgment. Within it, he shared how prior to colonization and genocide committed by white settlers against Native cultures across Turtle Island, gay marriage and Two-Spirit people were honored in their cultures for generations.
After the land acknowledgment, the Safe Harbors LGBTQIA+ Advocate said a few words to honor Amy Stubblefield, the former director of Safe Harbors, who died by suicide in March and was a huge supporter of LGBTQIA+ rights in Wallowa County and beyond. Her support is a major reason why Safe Harbors has an LGBTQIA+ Advocate and is able to support LGBTQIA+ people in Wallowa County, especially queer youth.
The LGBTQIA+ Pride festival included a bulletin board where people could post messages of encouragement to one another and many other interactive activities. One participant shared that they are out, but their younger siblings are afraid to come out because of the treatment their older sibling has received from their parents after coming out. Another burst into tears when offered a resource list of people in the community that they can call on for support.
The planning team worked hard to make the event as accessible as possible for people with Indigenous backgrounds, people with mobility needs, families with children, and youths who live in Wallowa, who often do not have the transportation necessary to get to a Pride event in Joseph or Enterprise. Several Wallowa teens stated that they were able to attend for the first time due to the location being within walking distance of their homes in Wallowa! Many, young and old, shared that being able to show up as their full selves and be supported and surrounded by community felt very powerful. Attendees were connected with resources for support and to each other, and ten lucky attendees even went home with self-care goody bags with donations from local businesses!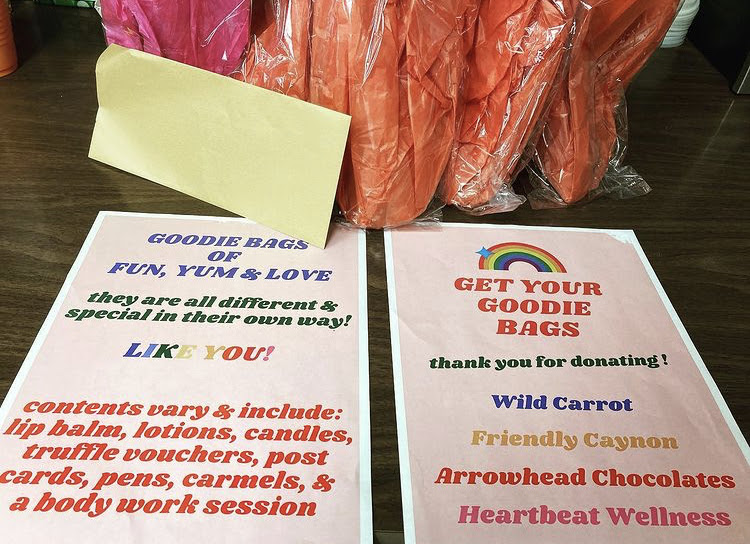 In Wallowa County, after multiple people received threats because of their identities, organizers created a list of supportive community members to reach out to for queer folks, people of color, people with disabilities, and others experiencing threats.
Harney County Pride
RAD held a Pride event over the weekend
Published in July in the Burns Times-Herald
For the second year in a row over 50 people gathered at Steens Mountain Brewing Company for Harney County's PRIDE picnic hosted by the Rural Alliance for Diversity (RAD). Community members and passers-by who observed festivities taking place all came together for food, drinks, and games including PRIDE Through the Years Trivia.
RAD co-founders Janelle and Bird Wicks led the trivia game in which each round focused on a different time period in LGBTQ+ (Lesbian, Gay, Bi, Trans, Queer, etc) history. Participants learned facts such as how the first gender-affirming surgery performed in the US was done in 1917 by physicians at the University of Oregon Medical Department, now known as OHSU. And the more recent phenomenon known as Rainbow Capitalism, which refers to corporations exploiting the gay community by rainbowfying their logos every June for Pride Month but not actually enacting policies that support LGBTQ+ people.
The LGBTQ+ community has been holding PRIDE celebrations since the first such events in 1970 following the police raid and subsequent Stonewall Riots, in New York. In the decade since these events, much social and political progress has been made including the end of "Don't Ask, Don't Tell," and the legalization of gay marriage. Despite these advancements toward equity there is still progress to be made in terms of transgender rights, parental protection, and support for queer youth
The Rural Alliance for Diversity exists at the intersection of social, racial, and environmental justice. Events like the PRIDE picnic are opportunities for the entire local community to come together and celebrate and sometimes rally around a call to action.
"I am so proud to be a part of the team that put this event together in order to celebrate and honor the diversity of our community right here in Harney County," said Janelle Wicks.
This year's event was made even more special by food from Jin's kitchen, by Susan Johnson, and a special event menu from Steens Mountain Brewing. Both Susan and Andrew Roy of the Brewery explained that they were proud to support RAD and the local LGBTQ+ community.
After organizing Pride, RAD learned that their county had no LGBTQ+ friendly foster homes and has been working to change that. In September, they partnered with Oregon's Department of Human Services to host an info session for people in their community that were interested in becoming foster parents and would be welcoming to queer youth. And they are already getting messages from folks excited to help organize next year's Pride festivities!
Is your group organizing for LGBTQ2SIA+ liberation? Are you building community or holding anti-queer elected officials accountable? Not sure how to get started in your local community? Reach out to your local ROP organizer or email emma@rop.org us to let us know what you are up to, and how we can support your organizing!