Last fall, ROP was contacted when an Echo City Councilor posted violent, anti-LGBTQ slurs on social media directed at
filmmaker Joe Wilson of "Kuma Hina" and "Out in the Silence" (you may remember Joe from our rural tour of "Out in the Silence" in 2010). Word traveled quickly about Councilor Lou Nakapalau's social media rants throughout the community of Echo, population 706, and surrounding Umatilla County. Folks took immediate action: putting out welcoming signs in front of businesses and bringing a crowd to the next Echo City Council meeting to make it clear that violent, anti-LGBTQ statements do not represent the values of the community of Echo. Several Main Street Echo business owners, residents, and educators demanded that the City Council take responsibility.
Because of the pressure built by vocal community members and supporters from across the county, the City Council issued a statement denouncing Nakapalau's actions. While the apology was a first step, local leaders continued to push the City to address the core problem: an elected official was using his name and his position to promote exclusion, sending a clear message that not everyone is safe or welcome in their community. Not wanting the conversation to be swept under the rug, local high school teacher and coffee shop owner Pam Reese submitted an opinion piece to the Eastern Oregonian calling for the city to take a stronger stance and for Nakapalau to resign.
After breaking the silence, Echo community members and business owners who spoke out began to experience boycotts, harassment, and intimidation. City employees called for boycotts of two Main Street businesses, sometimes while they were still on the clock for the city. Nasty comments and negative reviews were left on their social media pages, dissuading tourists and visitors from shopping at their stores.
Then the Eastern Oregonian reported that Nakapalau had past convictions for possessing child pornography. Nakapalau resigned from the city council and soon after passed away; and the boycotting and scapegoating of local businesses intensified. People began going into the local businesses to yell at the business owners, sometimes sneaking up behind people when they were unlocking their doors and their backs were turned. Someone even broke the window of a business, climbed inside, and tore down their "Everyone is Welcome" sign.
At the same time, community members were coming into the coffee shop every day and letting them know, often in a hushed voice, that they were so grateful that someone was saying something. Young people began asking critical questions about the kind of community that they want to live in: how are people—especially youth—included in the decisions that impact their lives? How do we bridge the divides in our community, build empathy, and make Echo a place where everyone can feel welcome?
Pam, a local organizer, teacher, and business owner, shares, "This is about more than a statement being made online. This is about our community: who feels welcome and who gets to participate. When we have members of our city staff calling for the boycott of local businesses for speaking out for inclusion, when we have youth saying they do not feel safe walking through downtown Echo if they are gay, when we have members of the city council and staff defending violent, anti-LGBTQ comments while calling for a boycott of local businesses who champion a welcoming message, we have a crisis in local democracy. This is about everyone feeling safe in our community to live their lives fully with dignity. This is about the people impacted being a part of the decisions that affect their lives."
ROP gathered with a group of community members for a living room conversation (or rather a coffeeshop table conversation!) to catch each other up on what was happening and map out next steps for the community organizing. We shared the concerns we all had with the lack of access, accountability, and inclusion at the city level, and we brainstormed how to support the long-term vision of making Echo a safe and welcoming place for all. The group of leaders decided to form a human dignity group: Economic Community for Healthy Opportunities (ECHO).
ECHO is a coalition of people from the broader community, including long time Echo residents, young people from the high school, LGBTQ folks and their friends and families, business owners, and educators. The goal of ECHO is to bring different parts of the community together to develop and support a vibrant and inclusive community. Members of ECHO are getting involved in city council races, supporting young leaders in the community, and creating opportunities for the people of Echo to share and directly shape what they want their community to look like.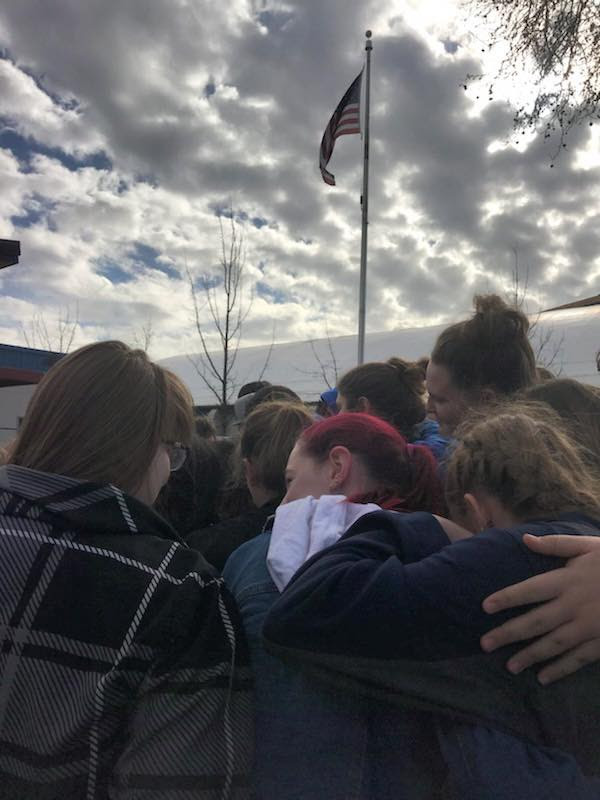 Several high school students also decided it was time to take action, forming Students Participating and Rebuilding Community (SPARC), a club at the high school that aims to strengthen the connection between the town and the school, increase youth participation in local government, and build a more welcoming and inclusive community. Their first project was organizing a March for School Safety event including a walkout (photo of the event on the left) and are planning a fall festival to celebrate their small town and start conversations with neighbors about diversity and inclusion.
While human dignity leaders in Echo and surrounding areas have been organizing for human dignity and democracy in their community, people across the region are rallying online and in person to support the businesses targeted by the boycott. Even with people showing their love for Buttercreek Coffee and the Shops at Echo Station through online reviews and extra cash in the tip jar, the businesses are reeling from the impact of boycotting.
When community members show up for the safety of everyone in their communities, let's have their backs and give them love and support from across rural Oregon! Here are a few ways to show your support:
Share this story! Intimidation tactics thrive in the shadows. Let's shine a light on what is happening to our friends in Echo by sharing this ROPnet on Facebook, email lists, and newsletters.
Support boycotted businesses! Visit the Shops and Echo Station and Buttercreek Coffee and write positive reviews for them!
Strategize with the brave Echo organizers at the Rural Caucus & Strategy Session on Saturday, May 19th in The Dalles! All Caucus-goers will be drinking Buttercreek Coffee's coffee and delicious chili and cornbread during the event! Learn more and register here while space is still available!
We are deeply inspired by the courage the incredible people of Echo have shown in the face of bigotry and hostility. We are looking forward to spending time together at the Rural Caucus & Strategy Session diving deep into the lessons from rural communities across Oregon who are organizing for long-term change, challenging and transforming "good ole boy" networks in their wake!