Human dignity groups have held weekly rallies and flag waves in support of the Movement for Black Lives at Newberg's city flagpole since the murder of George Floyd in May of 2020. These weekly gatherings took on renewed urgency though this past August when the Newberg School Board enacted a ban on wearing or displaying Black Lives Matter and LGBTQIA+ Pride flags. Then, in September, a white teacher also showed up at school in blackface to protest statewide vaccine mandates, and Proud Boys counter-protested the weekly rallies. In the face of these threats to human dignity, local organizers in Newberg have come together to oppose the ban and support students. With school board races in communities across the state coming up this Spring, Newberg is just one of many examples of crucial local organizing around education.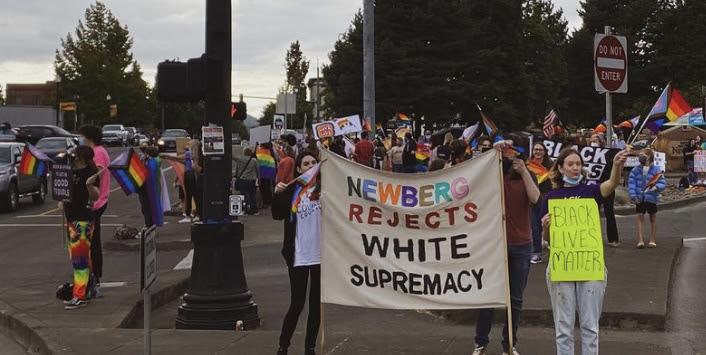 Last May's school board elections brought in a slate of new candidates supported by the Political Action Committee called Save Our Schools Newberg. By August, this new school board had banned Pride and Black Lives Matter flags and by September they replaced the ban with an official district policy that was even broader. In a clearly defensive move against the victories that movements for justice and inclusion have won over the past few decades, this new policy included banning any display that "depicts support or opposition relating to a political, quasi-political, or controversial topic."
Adding insult to injury, on September 17th, a white special education teacher showed up to work in blackface, after applying iodine to her skin, saying she was portraying Rosa Parks in a protest against statewide vaccine mandates. In the same week, an investigation was launched into students participating in a Snapchat group where they were pretending to buy and sell Black students.
The racism and homophobia coming to the forefront in Newberg are not isolated to one community. Growing tensions around masks, vaccine mandates, anti-racist education, and LGBTQIA+ rights, are converging at school board meetings around the country. Are you taking action around education in your community? Reach out to your local ROP organizer or email monicap@rop.org to let us know what's going on in your area.
Community groups and leaders in Newberg have been hard at work organizing to overturn this harmful policy, hold the teacher accountable who wore blackface to school, and make sure queer students and students of color at the Newberg schools know they are supported. Their efforts have not only brought comfort to students but have invigorated the larger community to actively participate in ways they never have before.
Erin and Jaybill McCarthy, two farmers who own land adjacent to Newberg High School, coordinated with dozens of community members to build and erect Pride and Black Lives Matter billboards on their hillside so these messages of love and inclusion could be seen by all the students at the school.
In addition, PFLAG Newberg hosted a listening session to elevate the voices of the students affected by the racist and discriminatory policy. Students who attended shared the disappointment, discomfort, and pain that these changes had brought to their school experience. They also spoke about the teachers willing to put their jobs on the line to support students by continuing to display Pride and Black Lives Matter flags.
Dozens of parents, students, and concerned community members have attended and made statements at school board meetings for the very first time and human dignity groups are organizing trainings for all community members, including a safety training led by ROP for organizers facing threats and intimidation.
Groups have also worked hard to organize wider support to overturn the ban. Newberg mayor and city council, district teachers' union, Oregon House Democrats, Oregon School Board Association, and Oregon State Board of Education have all spoken out condemning the ban and just last week, the Newberg Education Association filed a lawsuit arguing that the policy violates the first amendment to freedom of speech as well as the fourteenth amendment guaranteeing equal protection. And finally, a recall campaign is underway against Brian Shannon, the school board member that spearheaded the ban.
Want to learn strategies to defend and expand upon anti-racist curriculum in your school district so students don't continue to learn a whitewashed version of American history and culture? Showing Up for Racial Justice, the Women's March, Narrative Initiative, NYU Metro Center, and 22nd Century Initiative are co-leading a workshop on this topic called Our Children Deserve the Truth: An Op-Ed Training for Parents, TOMORROW Wednesday, November 10th at 5 pm Pacific. Register here to learn how to write a compelling op-ed to influence local decision-makers as well as the larger public narrative.
Do you or members of your group regularly attend school board meetings? Is your community facing challenges to vaccine or mask mandates? Has your group recruited community members to run for local office? We would love to hear about ways you are making sure that your local school board is upholding the values of human dignity and the democratic process. Reach out to your local ROP organizer or email monicap@rop.org to let us know what's going on in your area and get support for your organizing!