When it comes to the COVID-19 public health crisis, local organizers from Lake County to Jackson and Benton Counties are committed to showing up for their neighbors and protecting each other from this deadly virus. Read on for three stories of how local human dignity group leaders continue to tackle the pandemic nearly two years in by centering shared rural values.
Lake County Encourages Vaccines
This fall, community members in Lake County were facing closures at the courthouse, and the hospital was seriously understaffed due to skyrocketing coronavirus cases, and low vaccination rates. So organizers got together and hashed out a plan to encourage their friends and neighbors to get vaccinated!
They reached out and connected with 90 people in less than a month who agreed to include their names in a newspaper ad alongside a simple statement: "Protect our community, our neighbors, each other. Please join us in choosing vaccination." The Lake County Examiner published the advertisement right across from the Commentary page on Wednesday, November 17th. Signatures came from a large cross-section of the community including people who work at the courthouse, at the school, and in local city and county government, a city council member, a realtor, the interim crisis center director, a minister's wife, a doctor, a nurse, as well as retired teachers and retired federal employees.
Young and old, Latinx and white, the organizers coordinating this effort made sure that the advertisement included well-known folks in the county with various political backgrounds and identities so that it would serve as a connecting force rather than a message that further polarized the community.
Benton County Supports Health Care Workers
In Benton County, Karen Stephenson took inspiration from September's Kitchen Table Activism to write letters and send origami cranes to healthcare workers and others faced with dangerous pandemic working conditions. Here's what she shared about taking action:
When I was talking with people in many fields including health care and education I kept hearing various stories of stress and burnout. The first batch of cranes went to the Newberg Hospital but when I heard about other friends struggling at their workplaces, I sent a couple more batches of cranes along with letters of encouragement their way too. The process of sending compassion unconditionally helped me get through these tough times as well. A coworker of one of my friends put the cranes together into the display pictured below.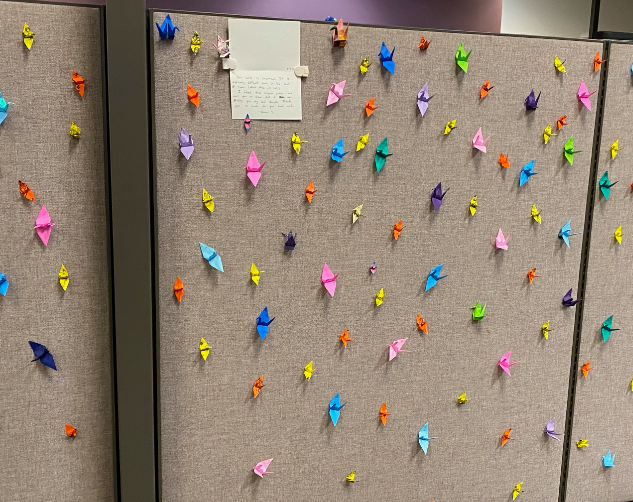 "In Jackson County We Care"
Oregon District 2 Indivisible started the "In Jackson County We Care" project in August to honor and support local nurses, doctors, and other health care providers with a special focus on those people working in local hospitals, which were overflowing with COVID-19 patients at that point. Here's what Allen Hallmark, a local leader with that group shared about their efforts:
We collected donations from Indivisible members and others, went shopping at Costco for lots of treats including power bars, nut bars, cookies, vitamin C packets as well as soft drinks, fruits & even fresh flower arrangements. Whatever we could find though we did try to keep the treats as healthy as possible!
Then we gathered all these supplies in a member's garage, filled 30 baskets with the treats, and added handwritten cards expressing our appreciation for the critical work they do for our community. After the baskets were full, we delivered them to the local hospitals and left them in break rooms for all the nurses, doctors, and other workers to share. Over the course of the project, we've gotten a lot of positive feedback from hospital workers!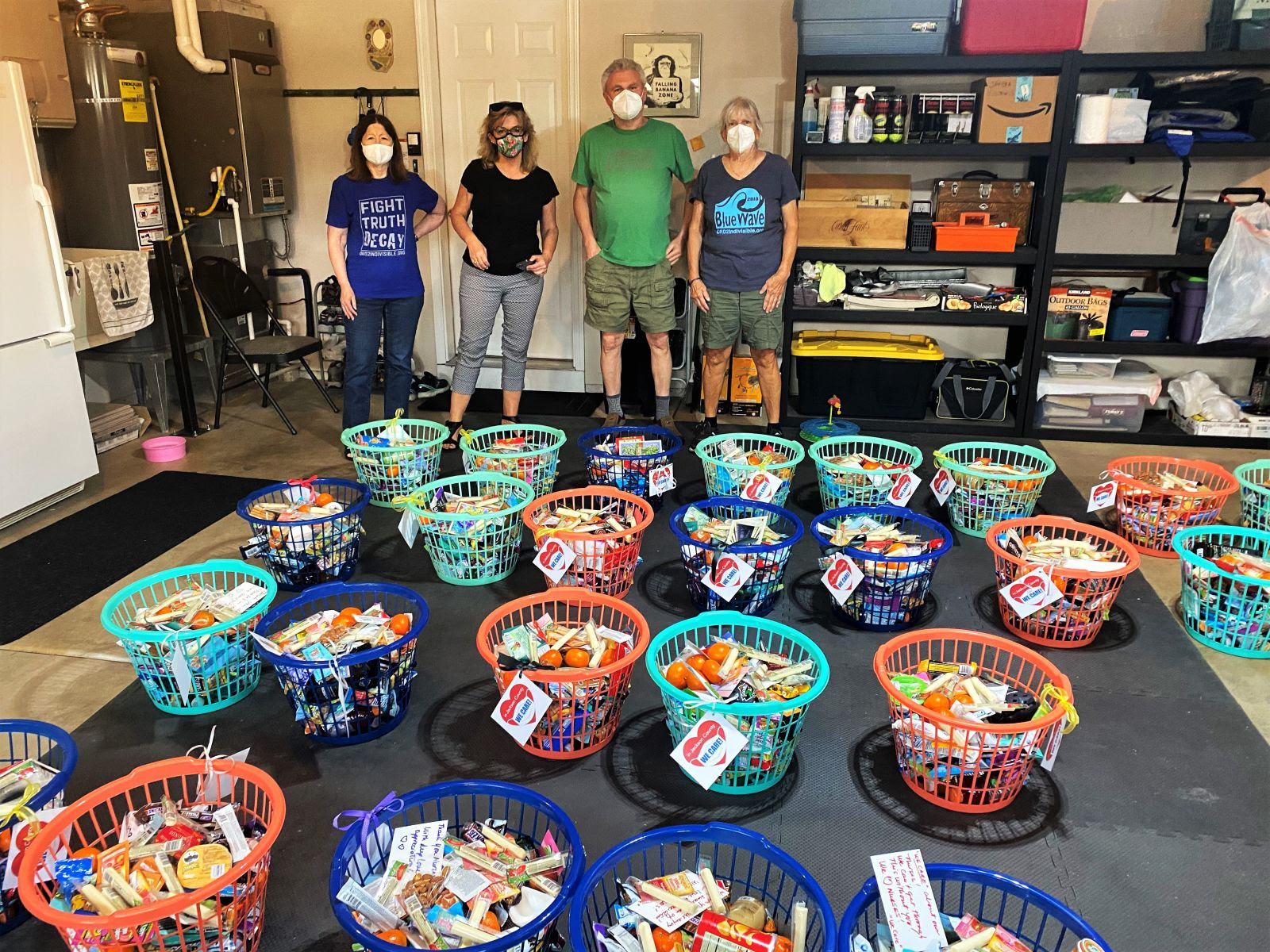 All of these stories are powerful examples of the impact that a small group of people can have when they take action rooted in our shared values of caring for one another! What is your community doing to look out for one another through this pandemic? Let us know by emailing Emma at emma@rop.org. We'd love to hear from you!