From a play created by organizers in Tillamook County on the local history of the Klu Klux Klan performed in schools, to anti-war poetry in the lead up to the wars in Afghanistan and Iraq, to the Barnyard Ruckus, where organizers came from around the state dressed in animal costumes for a day at that capitol to push legislators for "economic justice at home, civil liberties for all and global policies set by the global community", creative organizing has been a part of the heart and soul of ROP for 30 years!
Join rural Oregonians this Saturday, May 15th for the virtual Annual Rural Caucus & Strategy Session for an entire day of strategizing that concludes with a powerful dance performance by the OUT Dance Project and Creative Organizing Strategy Session on creative organizing facilitated by human dignity group leaders from Josephine & Benton Counties! Register here, and read more below!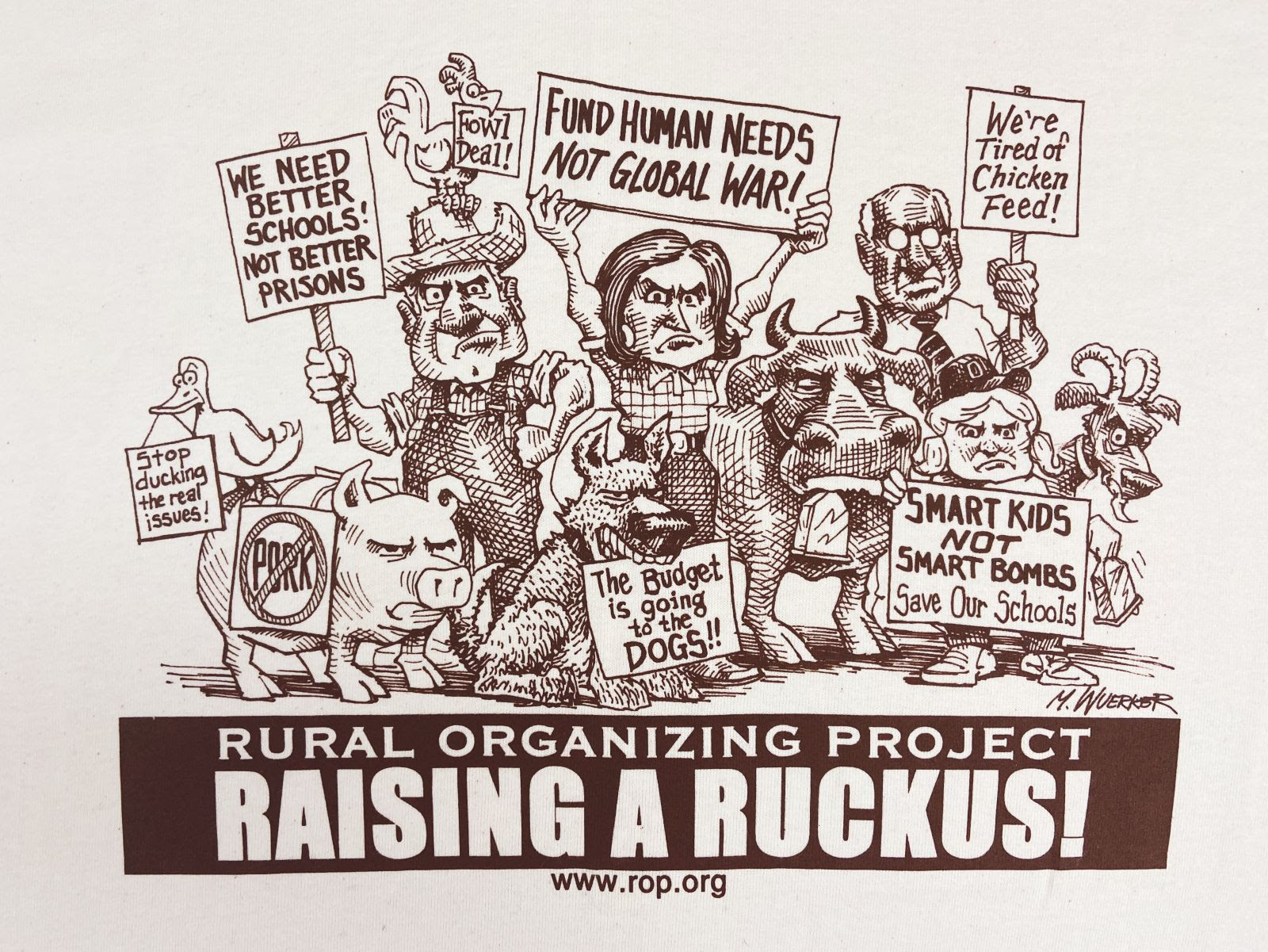 It has been one heck of a year (and beyond)! We are hearing folks across the network say that we want to sing and potluck and practice creating moments of lightheartedness and joy to help us get through together! Drawing on our rural skills of music, dance and storytelling, we can't wait to close out this year's Rural Caucus & Strategy Session on Saturday, May 15th, with a virtual performance by OUT Dance Project.
The OUT Dance Project is a powerful creative collaboration started by ROPers in Josephine County to combat a sense of isolation, illuminate connections and build rural queer pride. The performance will include dances by rural LGBTQIA2S+ folks alongside personal stories of the songs that have carried them through life-defining moments, including stories from human dignity group leaders!

Together we will strategize together about the many ways we can use creativity to amplify our own organizing, from impromptu theater to striking protest posters. It will also include an opportunity to move your body to music and story too (don't worry, you can turn your zoom camera off if you must). This is a conversation for everyone, whether you consider yourself an artist or you think you don't have a creative bone in your body. Each one of us brings unique skills and creativity to offer! Let's unlock new and expansive ways of organizing together!
More about OUT Dance Project:
OUT Dance Project is building resilience by connecting rural queers through story and dance. In these times of great upheaval, transformation, and struggle, we've all gotten creative about building community and solidarity across distance. As queer folks living in rural Oregon we know how hard feeling like 'the only one' can be–even though we are here. OUT Dance Project is a community-engaged project that lifts up the personal stories of rural LGBTQIA2S+ folks and the songs most deeply connected to them, to combat that sense of isolation, illuminate connections, and build rural queer pride.
​The OUT Dance Project will be a series of online performances of dance pieces alongside personal stories by rural queers. We have collected stories from rural LGBTQIA2S+ people across Oregon about how specific songs have carried them through life-defining moments. A selection of these stories will then be shared during the online public performances this March, alongside choreographed dances to the featured songs by a queer dance ensemble. After each performance, we'll host a facilitated talk-back conversation, aimed at building connections between participants, and collectively processing the material of the dances and stories and their implications.
Inspired by the Queer Songbook Orchestra and created by artists Sophie Traub and Eliot Feenstra, OUT Dance Project is based on the belief that change starts with stories, and stories are the foundation of relationships. Hearing stories that reflect your experience is a critical part of addressing the loneliness that often accompanies being rural & queer.
The OUT Dance Project is the third project of Beyond Boom & Bust, an initiative to cultivate economic resilience through the performing arts in rural Oregon.
See you on the (virtual) dance floor!  
Bring your cat, bring your snacks or bring your sweetie and we'll meet you there on Saturday at 5:30 pm!