Last weekend was inspirational!
Over the inauguration weekend, millions of people around the globe took to the streets to publicly demonstrate our commitment to human dignity, justice, and inclusion over the politics of fear and division. Oregon was no exception, with dozens of marches and rallies across the state, led by seasoned organizers and folks who have never marched or organized before. Check out photos and a list of the actions across Oregon below, and join ROP and rural organizers for a conference call next Wednesday, February 1st from 6:30PM-8PM to strategize about what comes next!
From Newport to Joseph, Coos Bay to Burns, and Bend to Brookings, rural and small town folks felt compelled to take a stand and join their neighbors to chant "say it loud! Say it clear! Immigrants are welcome here!" People marched in defense of reproductive rights, and in protest of violence and demeaning attacks against women. They marched for religious freedom, in opposition to the targeting of Muslims and the hate crimes spreading across the land. They marched to ensure hard-fought civil rights, and the right to continue to do battle for liberation from racism. They marched to protect the progress that the LGBTQ community has fought tooth and nail to achieve. They marched in defense of public lands and against the fossil fuel assault on everyone's future. And they marched to prevent the destruction of people's basic needs through the repeal of the minimal health insurance we have, the coming assaults on the minimum wage, the foreclosure of millions at the hands of a billionaire Trump cabinet and a malicious, venal Congress. The number of marches and how many people came out to marches speak volumes, with some estimating that Saturday was the largest display of dissent in our country's history.
Now we organize for the long haul!
Trump has signed executive orders to start building the wall along the US-Mexico border, to build the pipelines in Standing Rock and here in Oregon instead of protecting our water, and is making moves to ban Muslim refugees as he promised during his campaign speeches. We must figure out how to harness the energy of this past weekend to continue the fight for our communities, our neighbors, and ourselves. We know that we are many, we are strong, we are loud, and that we are powerful — and now we must assert all of the collective strength we have because our communities depend on it.
ROP is convening a conference call next Wednesday, February 1st from 6:30-8:00PM PST for rural and small town activists to plan next steps: What do we need to make our local actions for effective, and most importantly, how can we link up across regions to make our actions powerful? What does it look like to build community resilience and security? Saturday's marches showed just how many of us are ready to get active in rural Oregon. And now WHERE we live has also become very important. Click here to register!
People who live in Oregon's 2nd Congressional District, represented by Rep. Greg Walden, hold an incredibly strategic position for the entire nation. Rep. Walden is one of the most powerful politicians in the country, and he chairs the House Energy and Commerce committee. Walden will be making critical decisions to eliminate people's health coverage, as well as to expand dangerous fossil fuel projects.
Let's not forget the Oregon legislature. State representatives and senators need to be hearing from us right now. Even politicians who don't normally represent progressive views can have great effect on decisions made in the legislature by standing up and applying the pressure needed to achieve our demands. It's in these times of great mobilization that the status quo can be overturned by committed, vocal, strategic people. Let's use the conference call on Wednesday, February 1st from 6:30-8:00PM PST to plan campaigns that will change the face of rural Oregon!
Resistance and Resilience
We know a thing or two about resistance and resilience here in rural Oregon. We have resisted policies that tear our communities apart. For decades we have battled the religious right's attempts to vilify our queer and trans neighbors, the attempts by overt Aryan Nations racists to set up shop in our small towns, and the double-talk of mainstream politicians who target immigrants while stealing our social benefits and handing public resources to private interests.
In our rural communities we can also see the way that people are connecting with each other. In this moment many people are breaking isolation for the first time, or rekindling their desire to organize. We are hearing from human dignity groups across the state that people are hungry to get involved and attend every meeting and demonstration that is scheduled. We know that it's up to us to defend the most vulnerable in our communities and to keep our communities together in these dark and trying times.
Last weekend we had incredible opportunities to express our anger, grief, and love for one another, and rural Oregon was loud! Let us take inspiration from our own example and use our righteous outrage to continue to build the Oregon we all deserve.
Warmly,
Jess, Grace, Cara, Mike, and the ROP Team
Rural Oregon takes action for justice and human dignity!
Baker County: In rural Baker county, 31 people marched in the town of Halfway, a community with a population of 300! Members of Panhandle Community Alliance and others gathered in solidarity and action.
Wallowa County: The Peace and Justice Network of Wallowa County and others joined 325 people in Wallowa County! Organizers hoped for 50, expected 100 and got three times that! In their call to action, " We stand together, recognizing that defending the most marginalized among us is is defending us all. We stand together in solidarity with our partners and children for the protection of our rights, our safety, our health and our families – recognizing that our vibrant and diverse communities are the strength of our country."
Lincoln County: 1,600 strong in Newport as a coalition of groups and communities came together with a message of inclusivity, justice and solidarity: "Stronger Together March and Rally: For those who are interested in protecting civil rights, protecting vulnerable communities, and protecting the earth. Everyone is welcome: all ages, genders, sexual orientations, ethnicities, abilities, religions, and immigrants." Congratulations to Central Oregon Coast NOW, the Diversity Coalition of Lincoln County, PFLAG, and the Lincoln County Democratic Central Committee and all the participating groups!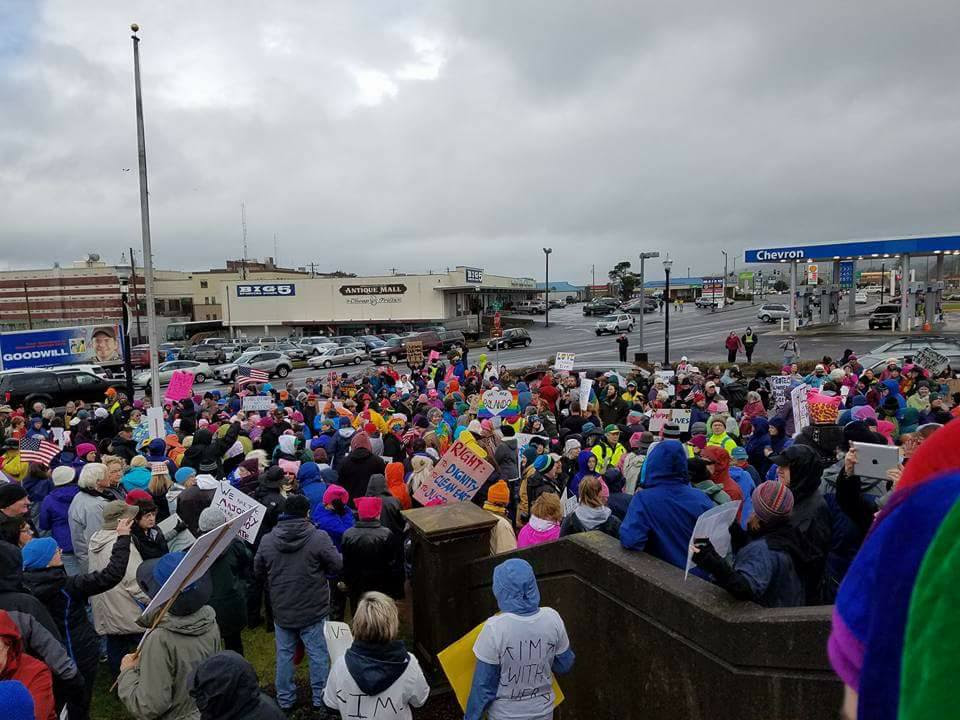 Clatsop County: 1,200 marched strong in Astoria. Along with Eugene, their march was shared by the New York times in this photo essay. Community activists, organizers, human dignity leaders, elected officials, faith leaders, and small businesses came together for the largest event in recent history. Next steps are already being organized!
Coos County: Over 200 people attended, making last weekend's march one of the largest in recent history.
Klamath County: Several days before the march, most folks in Klamath County were making plans to travel to Ashland or Portland to attend to marches there. Those who couldn't travel were still excited to participate, and showed solidarity with friends who were travelling to marches elsewhere by walking over the bridge in Klamath Falls together. The local newspaper heard about the plan and printed a small blurb announcing the march, and organizers used word of mouth and social media to gather more people. On Saturday over 250 people showed up to march in the snow!
Jackson County: Over 15,000 people converged in Ashland, some traveling all the way from Klamath County, Northern Josephine County, and the Illinois Valley! Voices of South Medford High School students were featured in media coverage.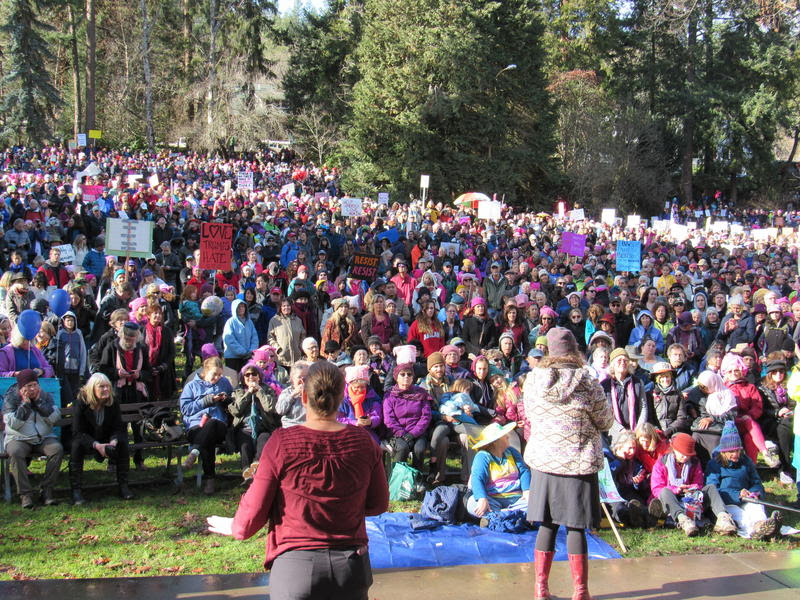 Union County: Over 500 people marched in La Grande! A contingent from Baker City came over to march alongside Union County residents.
Harney County: 22 brave folks came together for a small, but fierce march through the snow in Burns! The march was organized by some of the brave organizers who resisted the Malheur National Wildlife Refuge occupation last year.
Eugene walkout: On Monday, Kelly Middle School students marched for human dignity and justice for two hours! Click to read more about them here!
Oregon Actions by the Numbers
Location: Number of Participants
Pendleton: 400
Astoria: 1,200
Newport: 1,600
La Grande: 500
Halfway: 31
Joseph: 325
Coos Bay: 200
Eugene: 10,000
Corvallis: 1,200
Ashland: 15,000
Bend: 5,000+
The Dalles: 300
Brookings: 300
Burns: 22
Florence: 300
Hood River: 50
Klamath Falls: 250
McMinnville: 1,400
Pendleton: 650
Port Orford: 300
Salem: 4,200
Tillamook: 300
Sandy: 175
Portland: 100,000
Did we miss your community's participation? Email us at jessica@rop.org with a description and we'll update our list!