19 immigrants and refugees detained at a public county jail in The Dalles went on hunger strike Wednesday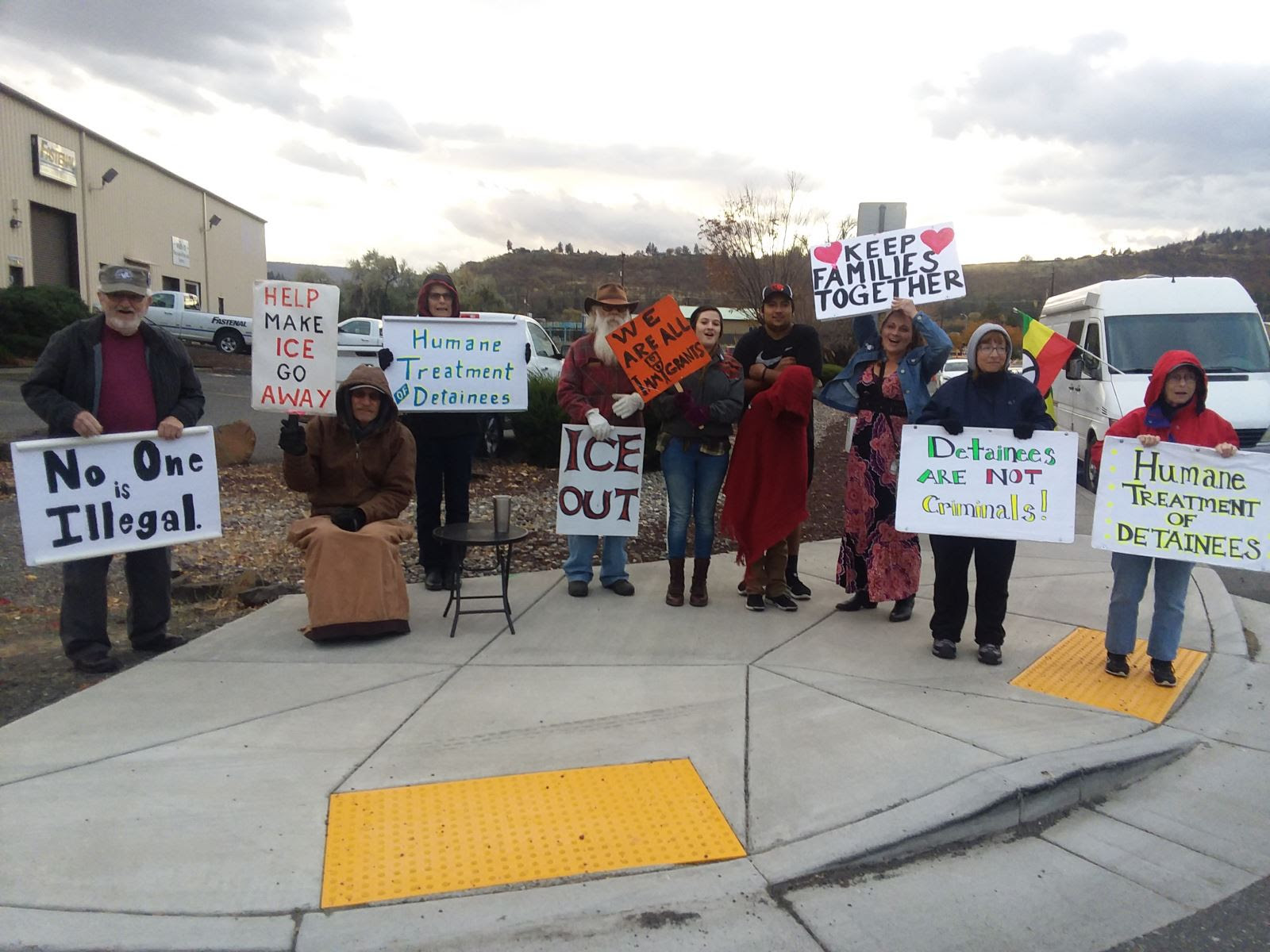 morning, demanding nutritious meals, family visitation, cheaper phone calls, cheaper commissary for hygiene products and food to supplement the unhealthy meals they are provided, and access to a stocked library and recreation yard. This is the second hunger strike this year waged by immigrant and refugee detainees to protest the inhumane conditions at the Northern Oregon Regional Correctional Facility (NORCOR). Hunger strikers are already experiencing retaliation for taking action, and visibility from across the state can help keep them safe from NORCOR's intimidation tactics! Join us tomorrow, Friday, November 3rd at 6PM for a Hunger Strike Solidarity call for updates and how people across the country can support the hunger strikers!
NORCOR is a public jail located in The Dalles and funded by Hood River, Wasco, Sherman, and Gilliam counties. NORCOR has had a contract with Immigration and Customs Enforcement (ICE) since 2014 and houses people the federal government wants detained for immigration purposes—even though Oregon law expressly prohibits using state or local public funds for federal immigration enforcement. Immigrant and refugee detainees and supporters have been organizing to improve conditions within the jail and end Immigration and Custom Enforcement's contract with NORCOR. November 1st marked exactly six months since the first immigrant hunger strike at NORCOR, which lasted six days in early May.
Hunger strikers are being retaliated against for daring to organize for dignity. Hunger strikers were moved into a separate, isolated dormitory. With no explanation, their commissary items were confiscated. At least one hunger striker has been transferred to another detention facility. Hunger strikers were told if they don't like the conditions at NORCOR, they will be transferred to facilities that are infamous for their horrible conditions on the other side of the country, as far away as Alabama. An ICE officer interviewed hunger strikers in attempt to identify hunger strike leaders, and strikers remained strong and in solidarity with one another — all claiming leadership. When the ICE officer told hunger strikers that they are being manipulated by clergy and outside groups, they responded, "The hunger strike is ours. The clergy and groups are our voice on the outside because we have no voice."
​Together we can take action to amplify the hunger striker's demands and raise visibility!
Looking forward to connecting with you and sharing updates tomorrow at 6pm on the call!
Immigrants Held at Rural Oregon Jail Engage in Second Hunger Strike Protesting Inhumane Conditions
The Dalles, OR – At least 20 immigrants detained at the Northern Oregon Regional Corrections Facility (NORCOR), a rural jail in The Dalles, OR, are now on hunger strike to demand humane conditions. The hunger strikers are immigrants held in NORCOR awaiting immigration hearings or deportation. Community members who are part of the Gorge ICE Resistance Coalition have been rallying outside of NORCOR (211 Webber St.) daily in solidarity with the hunger strikers since detainees there engaged in their first hunger strike May 1st, 2017.
"I have heard the stories of vulnerable people living under conditions that are intolerable," said John Boonstra of Gorge Ecumenical Ministries.  "Hunger strikes come at great risk to people who are already isolated for indeterminate amounts of time.  Now is the time for us to support termination of the ICE contract at NORCOR. Now is the time to take the moral high ground and call for a humane response to the demands of those who calls us to justice."
One hunger striker told Gorge ICE Resistance, "The conditions [in NORCOR] need more attention. We are not prisoners, we are immigrants with ICE problems."
As a result of expensive phone calls, no personal visits allowed and the remote location of the jail the detainees are distanced from support systems which provide moral support, legal counsel and other vital services when they are needed most. Detainees have expressed the need for many improvements including better food, cheaper commissary items (foods and toiletries including feminine hygiene products which must be purchased), cheaper phone calls, personal visitation with family and more books in the library. The community has come together in this time of human crisis in support of the immigrants held unjustly in their public jail.  They are amplifying the message of the hunger strikers through peaceful protest which has reached 185 consecutive days and continues as they gather in solidarity at NORCOR every day until the jail terminates its contract with ICE and releases the detainees who should not be imprisoned.
This second hunger strike comes on the heels of a lawsuit filed in July by several Oregon taxpayers challenging the use of a publicly funded jail to detain non-citizens on behalf of the federal government. For the past 30 years, Oregon law has prohibited local law enforcement to engage in federal immigration enforcement. Since 2014, in addition to housing local inmates, NORCOR has been housing people the federal government wants detained for immigration purposes—even though Oregon law expressly prohibits using state or local public funds for federal immigration enforcement.
The public is invited to join the member organizations of Gorge ICE Resistance in front of NORCOR on weekdays from 5-6pm for a peaceful demonstration in support of hunger strikers. In addition, Gorge ICE Resistance is circulating a petition demanding the NORCOR Board of Directors immediately terminate the contract with ICE and release all immigrants. For more information and to sign the petition please follow this link; https://rop.org/sign-the-petition/
Statewide Event: Sunday, November 5th from 1 PM – 3 PM: Rally in Solidarity with NORCOR Hunger Strikers (211 Webber St; The Dalles, OR 97058). Gorge ICE Resistance is a coalition of several local organizations throughout the Columbia Gorge who have formed to support the NORCOR hunger strikers, including Gorge Ecumenical Ministries, Somos Uno, Hood River Latino Network, Mid-Columbia Community Action Network, Gorge ReSisters, Community Action Network, Columbia Gorge Women's Action Network, Protect Oregon's Progress and more.