As we close out another year, we invite you to reflect on the incredible work of human dignity groups across rural Oregon in 2017. Click here to make a tax deductible year-end donation to support organizing in rural communities.
[pdf-embedder url="https://rop.org/wp-content/uploads/ROP-2017-Annual-Report.pdf" title="ROP 2017 Annual Report"]
In 2017, Rural Organizing Project reached across boundaries and borders to build the movement for human dignity. Two delegations of rural Oregonians traveled to Standing Rock in the dead of winter to build structures and build relationships between rural frontline communities. When immigrants and refugees detained in a public jail in the Columbia River Gorge went on hunger strike demanding humane conditions, we supported organizing inside and outside to amplify their demands, exposed the retaliation they experienced for going on strike, and celebrated two strike victories! Dozens of communities took their values to the streets, in January around inauguration day, rallying in support of Deferred Action for Childhood Arrivals (DACA), and in solidarity with the people of Charlottesville, connecting the dots to the occupations by paramilitaries in rural Oregon communities. After the election, we connected with and shared resources with rural organizers in over 25 states. ROP is officially 25 years old, and we look forward to building more capacity for resistance and justice in 2018 and beyond.
Building Safe and Welcoming Community
In the lead up to and following the election, rural Oregonians gathered in living rooms, libraries, and community centers to respond to escalating vigilante violence and to build community so that every neighbor can live their lives with safety and dignity. Communities across the state have organized when our LGBTQ neighbors were targeted, immigrants and refugees were profiled by Immigration and Customs Enforcement, and when white nationalists leafleted, eager to recruit. Individually and collectively, rural people are joining together to build safe and welcoming community for all.
As immigrant and refugee communities experienced rising vigilante and state violence, rural Oregonians have hosted ROP's Know Your Rights and Know Your Roles workshops to dive deep into how immigrants and allies can organize to defend their rights. ROP convened Rapid Response Strategy Sessions to build community infrastructure that responds to reported Immigration and Customs Enforcement activity, detentions, deportations, and the aftermath of families being torn apart.
From Union County to Coos County, rural groups are leading local Welcoming Community campaigns that promote a vision of inclusion and community over fear and division. "We All Belong Here," Coos County's poster campaign, encourages local businesses to place posters in their store windows to spark conversation about building community where everyone feels safe and welcomed.
Towns across Oregon passed Inclusion Ordinances affirming their communities' commitment to uphold Oregon's state law prohibiting the use of state and local resources to enforce federal immigration policies. Community members from Monmouth to Madras packed city council meetings to share stories about why it was essential that their town declare themselves a safe and welcoming place for everyone.
Rural Oregon Takes Action
Inauguration Actions: 
Thousands of rural Oregonians marched on inauguration weekend to publicly demonstrate our commitment to human dignity, justice and inclusion over the politics of fear and division.
Standing Rock: 
Two delegations from ROP went to Standing Rock with supplies and donations, built kitchens and helped with infrastructure projects.
Charlottesville: 
Demonstrations in solidarity with Charlottesville were held in over a dozen rural counties.
DACA: 
After the Trump administration announced the end of DACA, rural Oregonians held vigils, rallies and information sessions.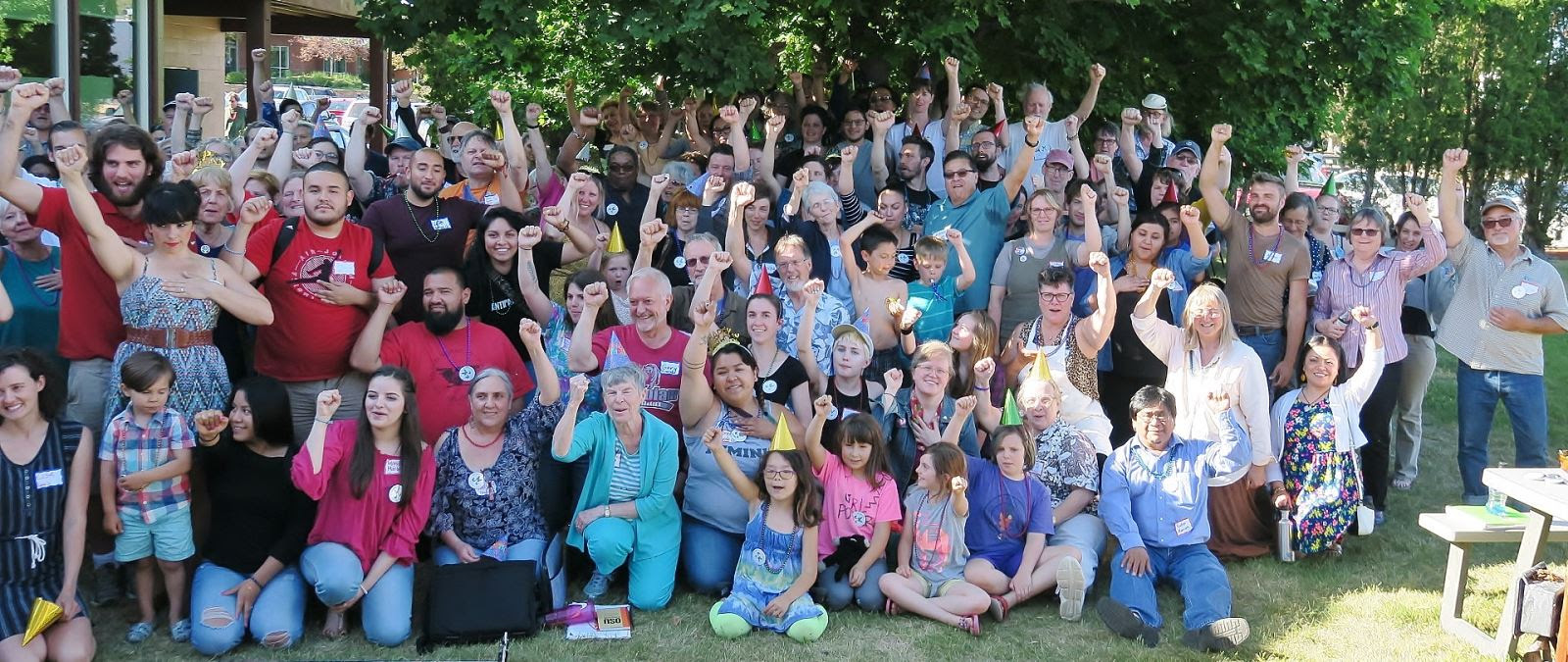 Rural Caucus & Strategy Session: In June, a record-breaking 165 people representing 31 of Oregon's 36 counties gathered for ROP's 26th annual Rural Caucus & Strategy Session where we reflected on the previous year and planned for the next. The 2nd annual Rural Organizing Institute offered rural organizers and community leaders the opportunity to dig into grassroots organizing, strategic communications and messaging, and Rapid Response Teams.
Who is the Rural Organizing Project?
ROP builds movement power for human dignity and justice in small town and rural Oregon. Our heart and soul are the network of more than 70 all-volunteer, autonomous groups across the state organizing their communities for self-determination, taking action for fairness and democracy.
We connect leaders and groups through collective action to promote inclusive democracy, to organize for racial and economic justice, and show up together for LGBTQ rights and immigrant fairness. We have a 25-year history of organizing toward a vision of rural and small town Oregon as a place where all can live their lives fully with dignity and safety.
More than 70 human dignity groups in our network are building the rural movement for justice across our state. A few highlights from local organizing in 2017:
 "We All Together Won"
–       Hunger striker after November victory at NORCOR
In April, several immigrants and refugees were transferred from the NW Detention Center in Tacoma, WA to Northern Oregon Regional Correctional Facility (NORCOR), a regional public jail for Wasco, Hood River, Gilliam and Sherman Counties in rural Oregon, in retaliation for their participation in hunger strikes. The retaliation backfired! Instead of shutting down organizing by isolating the strike leaders, immigrants and refugees organized inside NORCOR, going on hunger strike on May Day to demand access to jobs, programs and hot food.
With ROP's support, leaders in the Columbia River Gorge mobilized support for the hunger strikers, forming Gorge ICE Resistance (GIR), a coalition of over a dozen groups spanning multiple counties and state lines. GIR held daily rallies outside of the jail to amplify the demands of the hunger strikers, coordinated local and national media coverage to expose inhumane treatment at NORCOR, and built a base of neighbors who seek to hold NORCOR accountable to the demands of the hunger strikers and to ultimately get ICE out of NORCOR!
Local clergy, lawyers and volunteer interpreters have worked in partnership with GIR to support the hunger strikers and organize their community to resist the use of their public institutions as a tool in an inhumane system of detention and deportation. After six days with no food or water, strikers won access to jobs, programs and microwaves to heat their meals. In November, 19 folks went on hunger strike again, and after four days they won warmer clothes, nutritious food and free video conferencing with families — in-person visitation isn't allowed and previously the video conferencing was prohibitively expensive.
Community leaders in Wasco, Hood River, Sherman and Gilliam counties continue to build their campaign to end NORCOR's contract with ICE. They are rallying daily outside the jail, attending NORCOR board meetings to speak out against the ways the publicly-funded jail was endangering their immigrant neighbors, lobbying community leaders to speak out and building a vast network of supporters in the Columbia River Gorge and beyond.
We are honored to include these groups in our network:
Baker
     Baker County People for Human Dignity
     Panhandle Community Alliance
     Concerned Citizens of Baker
Benton
     Rapid Action Community Response
     Committees of Correspondence for Democracy and Socialism
     Corvallis SURJ
     Veterans for Peace Chapter 132, Linus Pauling Chapter
     Oregon Community Rights Coalition
Clatsop
     Pacific Unitarian Universalist Fellowship
     Indivisible North Coast Oregon
     Columbia Pacific Alliance for Social Justice
Columbia
     March On
     Columbia County Coalition for Human Dignity
Coos
     We All Belong Here Coalition
     Human Rights Advocates of Coos County
Crook
     Human Dignity Advocates
Curry
     Indivisible North Curry County
Deschutes
     Democracy Happens
     Peace and Social Justice Team at Trinity Episcopal Church
     Building Common Ground
     Central Oregon Jobs with Justice
     Peace and Justice Team at First Presbyterian Church
Douglas
     Common Ground Coalition
Gilliam, Wheeler & Morrow
     Rural Voices
Grant
     Grant County Positive Action
Harney & Grant
     Blue Sage Ministries
Hood River
     Building Community Connections/ Somos Uno
     Columbia Gorge Women's Action Network
     Hood River County Rapid Response Team
     Hood River Latino Network
     Gorge Ecumenical Ministries
Jackson
     Citizens for Peace and Justice
     Rogue Climate
     Peace House
     Veterans for Peace Rogue Valley Chapter 156
     Lotus Rising Project
Jefferson
     Jefferson County Human Dignity Group
     Teen Book Club
     Let's Talk Diversity Coalition
Josephine
     Rural Organizing Against Racism
     Josephine Social Justice Alliance
     Grants Pass PFLAG
Klamath
     Peace Reading Group
Lake
     Indivisible Lake County
Lane
     Cottage Village Coalition
     SURJ Springfield-Eugene
     Deadwood Resists
     Community Alliance of Lane County / Springfield Alliance for Equality and Respect
     Community Rights Lane County
     Womens Action for New Directions
     Blackberry Pie Society
     Stand for Peace/Occupy Cottage Grove
Lincoln
     Central Oregon Coast Chapter of the National Organization for Women
     Immigration and Information Response Team
     PFLAG of the Oregon Central Coast
     Diversity Coalition of Lincoln County
Linn
     Albany Peace Seekers
Linn & Benton
     Community Action for Racial Equity, Mid-Valley
     Linn Benton Greens
Polk
     Polk Community for Human Equality
     Polk Rapid Response Team
Tillamook
     Progressive Action Tillamook
Union
     Racial Justice in Eastern Oregon
     Oregon Rural Action
Wallowa
     Peace and Justice Network of Wallowa County
Wasco
     Gorge ICE Resistance
     Protect Oregon's Progress
     Wasco County Rapid Response Team
Washington
     Adelante Mujeres
     West County Council for Human Dignity
     North Plains Grassroots
Yamhill
     Unidos Bridging Community
Thank you to all the courageous human dignity leaders across rural Oregon that make this work possible.
Here's to a powerful and impactful 2018!