Over a year ago, I wrote you all to express my grief, dismay, and feeling of paralysis with the news that George Zimmerman was acquitted for Trayvon Martin's murder. Last night, I watched a livestream of Ferguson protesters absorbing the news that Officer Darren Wilson would not be indicted, and I sobbed as I helplessly watched these incredible community organizers trying desperately to contain their grief as they observed 4 1/2 minutes of silence, as requested by Mike Brown's family.
It was just over 100 days ago that Mike Brown was shot more than six times with his hands in the air and his bleeding body was left in the street without so much as an ambulance called. Ferguson community members sprung into action, forming new community groups, many led by youth. Broad coalitions have come together in unified cause, despite intense police crackdown, building long-term organizing power for justice — and not just justice for Mike Brown, but all of the black men and women and children whose deaths have been at the hands of state violence.
It is because of their organizing that we even know Mike Brown's name. It is because of their organizing that a grand jury was even convened. The National Guard was called out to Ferguson in anticipation of the grand jury decision announcement faster than they were called out to New Orleans for Hurricane Katrina. It took strong community organizing to make the topic of national conversation the ugly reality that people of color are targeted and killed by police officers almost daily with little to no recourse.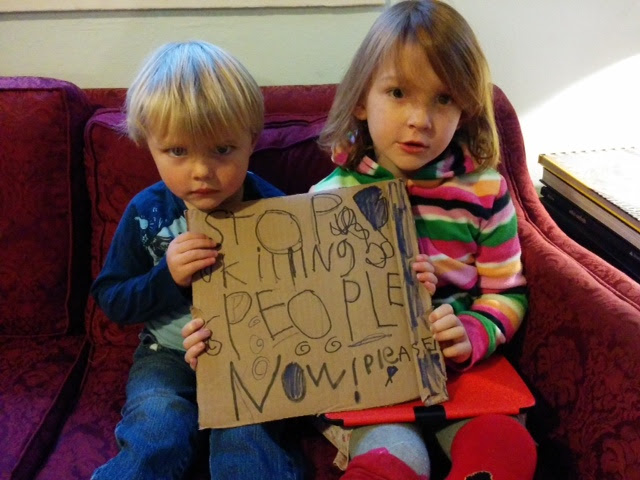 Leo & Cora, young ROP leaders (and children of longtime ROP organizer Amy Dudley) with their handmade signs in their own words reading "stop war" and "stop killing people now!" They will be joining other families today in protest in Portland.
We have watched the Ferguson police use military weapons, vehicles, and tactics to shut down demonstrations, which led to a national conversation about the militarization of our police. Many communities across the nation to looked inwards at their own police departments. Human dignity group leaders across the state were startled to learn that police departments in their counties had rocket-propelled grenades, scores of automatic weapons, and armor-plated, mine-proof, all-terrain military vehicles. All of these weapons are "gifts" from the military, granted to local police departments and school systems across the country. With the knowledge that these weapons are in our local police officers hands in the midst of a national conversation about police killing unarmed people, small town Oregonians were asking: what is the purpose for the state sanctioned militarization of local police departments across the country? Could Ferguson happen here?
Because of the tireless organizing in Ferguson, we have thrust into the national spotlight a conversation on how race determines the kind of experience you have with law enforcement and the broader US "justice" system. In the US, a black person is killed by police every 28 hours. This is a rate comparable to the rate of lynchings of black people in the early 20th century. With even the brightest of spotlights shone on Ferguson, the officer who shot Mike Brown was not indicted, which is extremely rare considering of the 162,000 federal cases brought forward in 2010, only 11 grand juries declined to indict.
People across geography, across struggles, across issues are standing together right now. We aren't in Ferguson, but there are things we can do here in rural and small town Oregon, as human dignity organizers, as people committed to justice:
Organize or join a protest. So far we know of several around the state (check out the list below) and more will be added to our Facebook page as we hear about them. Human dignity group organizers are planning events throughout the week. You can organize a demonstration, too — all it takes is a few people together with signs. Email me at jessica@rop.org to let me know about your event and I will post it! Don't forget to add it to theFerguson National Response Network!
Sign the petition calling on the Department of Justice to charge Officer Darren Wilson and protest the 1st Amendment rights of Ferguson protesters.
Giving thanks and resistance. Where does talking to your family and friends fit into your holiday plans? This holiday week we'll be sitting around the table with family and loved ones sharing what we are thankful for. Sometimes it's the simple dinner table conversations where transformation can happen. Transformational conversations are what our movement is built on. Connect, share what you're feeling, and process together.
Not sure what to talk about? Read up and then engage. There are a number of articles linked throughout this ROPnet that can help spark some conversation. Our friends at Showing Up for Racial Justice (SURJ) have alsoput together some resources with a great list of articles worth digging into.
Start the conversation about what you can do locally.  Over the last few years human dignity groups have been organizing to build Safe & Welcoming Communities for all, from building relationships with (and at times challenging) local law enforcement to address racial profiling, to developing rapid response teams able to respond to hate activity. Contact ROP and let's schedule a gathering to start developing strategies for your human dignity group to engage in Safe & Welcoming Communities work. For a few ideas, check out this Menu of Options.
Let us come together for justice. Let us not just make noise, but also deeply consider what we, as organizers, must do to make our communities safe so every member can live their lives fully with dignity and safety.
Warmly,
Jessica
– – – – – – – –
Roseburg
Demonstration: bring signs and wear black
Today, Tuesday the 25th at 4PM at 930 NW Garden Valley
Medford
Solidarity Rally for Ferguson Missouri
Today, Tuesday the 25th at 12PM, Vogel Plaza, 15 S. Central Ave.
Corvallis
Demonstration at Oregon State University
Today, Tuesday the 25th at 11:45-12:30PM, outside Furman building along 15th St.
Community Dialogue on the Ferguson Verdict
Today, Tuesday November 25th at 3pm in Memorial Union room 208 at Oregon State University
Eugene
Vigil in Solidarity with Michael Brown
Today, Tuesday the 25th at 5PM at the Wayne Morse Free Speech Plaza,
Salem
Salem says: BLACK LIVES MATTER!
Today, Tuesday the 25th at 12PM outside of the Salem Police Department, 555 Liberty St SE
Portland
Emergency Response to the Decision of the Mike Brown Case
Today, Tuesday the 25th at 4PM, 1120 SW 3rd Ave (3rd & Madison
Check out ROP's Facebook page for updates and additional actions as they are called throughout the week!