If you tuned into Rural Roots Rising last month, you know that we created our first Community Media Spotlight, a series we plan to continue throughout this season to highlight folks working at the intersections of rural organizing and media making! This two-part episode features LaNicia Duke, the host of Rural Race Talks on Coast Community Radio! If you missed the first episode, where we introduce Rural Race Talks and hear highlights from the show, be sure and catch it here as we get ready to go Behind the Scenes with Rural Race Talks. In this month's episode, we talk with LaNicia about the power of learning in public and what motivated her to start a call-in radio show focused on talking about racial justice in our rural communities.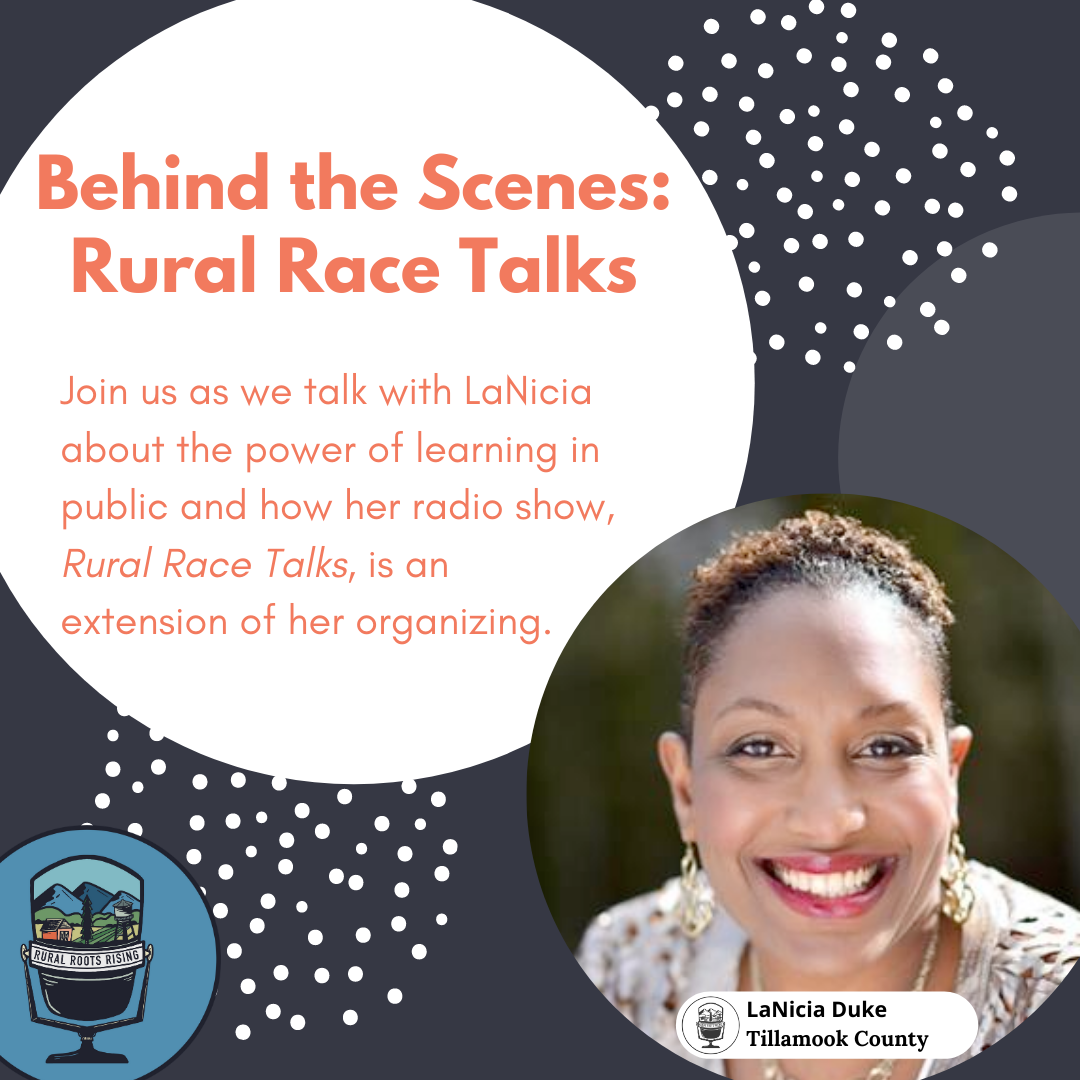 Listen to Behind the Scenes with Rural Race Talks!

LaNicia is a self-identified brown-skinned girl and community organizer living in Tillamook County, a county that is nearly 94% white. LaNicia and Graham, the show's producer, open up the conversations and the phone lines and invite people to engage on everything from how we can begin to heal from our collective, social, and generational traumas to what 2020 has taught us about race.
Many of us associate call-in radio shows as spaces where the loudest, most overpowering voices are the only ones heard. But LaNicia is flipping that script, carving out a platform for the community to face its fears and to practice discussing a topic many white Oregonians are afraid to dive into. The small-town reality that everyone knows everyone also means that sometimes the transformations made possible through rural media-making are shared in real-time…like when LaNicia runs into listeners in the grocery store who were moved by the radio show. Our histories of racism in rural places are shared histories, and reckoning with, healing from, and rebuilding requires us to have these conversations and grapple together with how to move forward. As a result, LaNicia considers the radio show an extension of the organizing and conversations she is having off-the-air with friends and neighbors up and down the coast.
One thing we've learned over the course of fifteen episodes of Rural Roots Rising is that many organizers never set out to do community organizing work. Rather, they were looking to build community or to solve a problem and before they knew it, they were organizing. For LaNicia, a huge part of her radio work is about breaking down the isolation and modeling moving through the discomfort together:
"I think the biggest thing that I've learned… is that the conversations are easier to have when people know they're not by themselves. The growth is easier to obtain when people know that they're growing with someone else. And even though I'm a person of color speaking from a very particular lens and lived experience, again, there's so many points of our lives that intersect–our needs, our desires, our hopes, our fears. And so it's a way to just connect and tell people, hey, you're not alone in this journey."

LaNicia Duke
In a time when our country is debating the role of media in free speech and communities are rapidly losing access to locally created content, generating community-based radio programming is essential. Media can be used to turn people against one another, as we have seen in so many examples across history. Media can also be a way to start conversations that call for accountability and disarm further violence. As LaNicia is modeling, a call-in show in a rural community can be so much more than just a few voices on the air. It's about creating spaces for conversations and actions that make room for all of us!
Does creating and sharing out exciting and experimental rural media content get your juices flowing? Do you have a show, know of one that should be featured on Rural Roots Rising, or want support in making one? Are you organizing for racial justice in your community? Let us know at hannah@rop.org. We'd love to connect!