This year's Caucus was one for the books! On the weekend of May 20th, over 115 people from 23 counties and two tribal communities gathered in Albany for the Saturday Rural Caucus and Strategy Session. Many of us stuck around on Sunday for the Rural Organizing Intensive.
We kicked off the weekend on Friday, where locals and those who were driving in a day early from across the state convened at Common Fields for food, drinks, and good company, joining Our Revolution Corvallis Allies (ORCA) for their regular Friday social hour!
Saturday morning, we jumped right into naming and celebrating victories won across the state, big and small! Yamhill County organizers celebrated the school board victories in Newberg and McMinnville, where pro-democracy candidates won across the board. The Youth Leadership Council from the Confederated Tribes of Umatilla Indian Reservation shared about collecting over 25,000 petition signatures in support of removing the Lower Snake River Dams and traveling all the way to Washington, D.C., to meet with their representatives about the importance of this issue. So many others had stories to share from the past year that we filled an entire state map with sticky notes documenting all the powerful work human dignity leaders are engaged in!
We ate delicious tortas from Tacos el Machin for lunch, and everyone chose their own adventure – literally! Many of us sat at tables or sprawled in the grass, getting the most out of the time to dig into conversations with people we had just met. Others, like Robert, Susan, and Nancy, went on a carousel ride and to the local Pride Drag brunch fundraiser just a few blocks away!
In the afternoon, stomachs full of delicious food, we split into issue-based strategy sessions to discuss migrant justice, countering white Christian nationalism, responding to disasters, and much more… Here are a few highlights!
Protecting Democracy: Civics Circuit Training
Hot off the May special district elections, we debriefed the results of our get-out-the-vote efforts and candidate recruitment strategies and started to plan ahead for the looming 2024 election. Linn Benton NAACP leaders shared about their successful Civics Circuit Training, where over 80 community members participated in short station-based activities to learn how democracy works, from maintaining civil rights and combatting misinformation to understanding the process of running for office. Many groups saw a need for a similar event in their communities, where they are also struggling with an erosion of trust in local government and in democracy. Folks are eager to support their neighbors in understanding how to engage with the democratic process beyond voting. 
Heading into 2024, we know this work will be critical in making sure that our voices are heard and that members of our community have access to the information and resources they need to avoid falling prey to attempts by the far right to derail and delegitimize democracy. Would you be interested in hosting a civics circuit event in your community? Let us know, and stay tuned: one of the leaders of the event in Corvallis is working on a shareable toolkit so that human dignity groups across Oregon can easily take this idea home to their community!
On Message, With Meaning
ROP friend and movement communications expert Robert Bray (pictured above on the carousel) joined us to share a messaging model template that can be applied to just about any issue! Together we practiced how to communicate our worldview and values in a way that breaks down complicated issues into clear statements and moves our target audiences without repeating the opposition's messages.
Robert led two sessions on Saturday and a longer one on Sunday, and many folks still couldn't get enough! In the workshops, groups focused on building their messaging about crucial issues our communities are facing today, including harassment of queer and trans students at school board meetings and in schools, police sweeps of unhoused community members, and more. Check out the presentation slides here from Session 1, Session 2, and Session 3 (Sunday). We will be hosting a follow-up session with Robert for interested ROPers on Thursday, July 13th from 6:30 – 8 pm PST. If you would like to join, please reply here to sidra@rop.org! All are welcome, including those who attended sessions at the Caucus as well as those who weren't present! We are also planning more virtual opportunities to skill up around messaging this fall.
Building the Movement for Migrant Justice
Another session focused on migrant justice organizing, and leaders from across the state shared tools and strategies around how to talk to our neighbors of all backgrounds to cut through anti-immigrant rhetoric. From asking open-ended questions like "Where did you hear that?" and "What makes you say that?" to sharing personal stories, many in the room knew that talking to our folks will only become more critical as election-time rhetoric ramps up in the coming year.
For decades, Oregonians have shown up to defend our state's Sanctuary Law that aims to protect immigrants and refugees from police collaboration with Immigration & Customs Enforcement (ICE). In 2021, human dignity groups helped write and pass the Sanctuary Promise Act, which built a new hotline that supports families impacted by detention and deportation, and allows community members and organizations (like ROP!) to sue police departments who are violating the law! 
Our lawsuit against Cottage Grove for violating the Sanctuary Promise Act is still ongoing, giving others a perfect opportunity to discuss the consequences of not following the new law with their local sheriffs and police chiefs. Thanks to our partnership with Innovation Law Lab, we were able to share sheriff's policies around immigration from nearly every county in the state that we received through a public records request. At the caucus, many folks took their county's policy home with them to review with their teammates.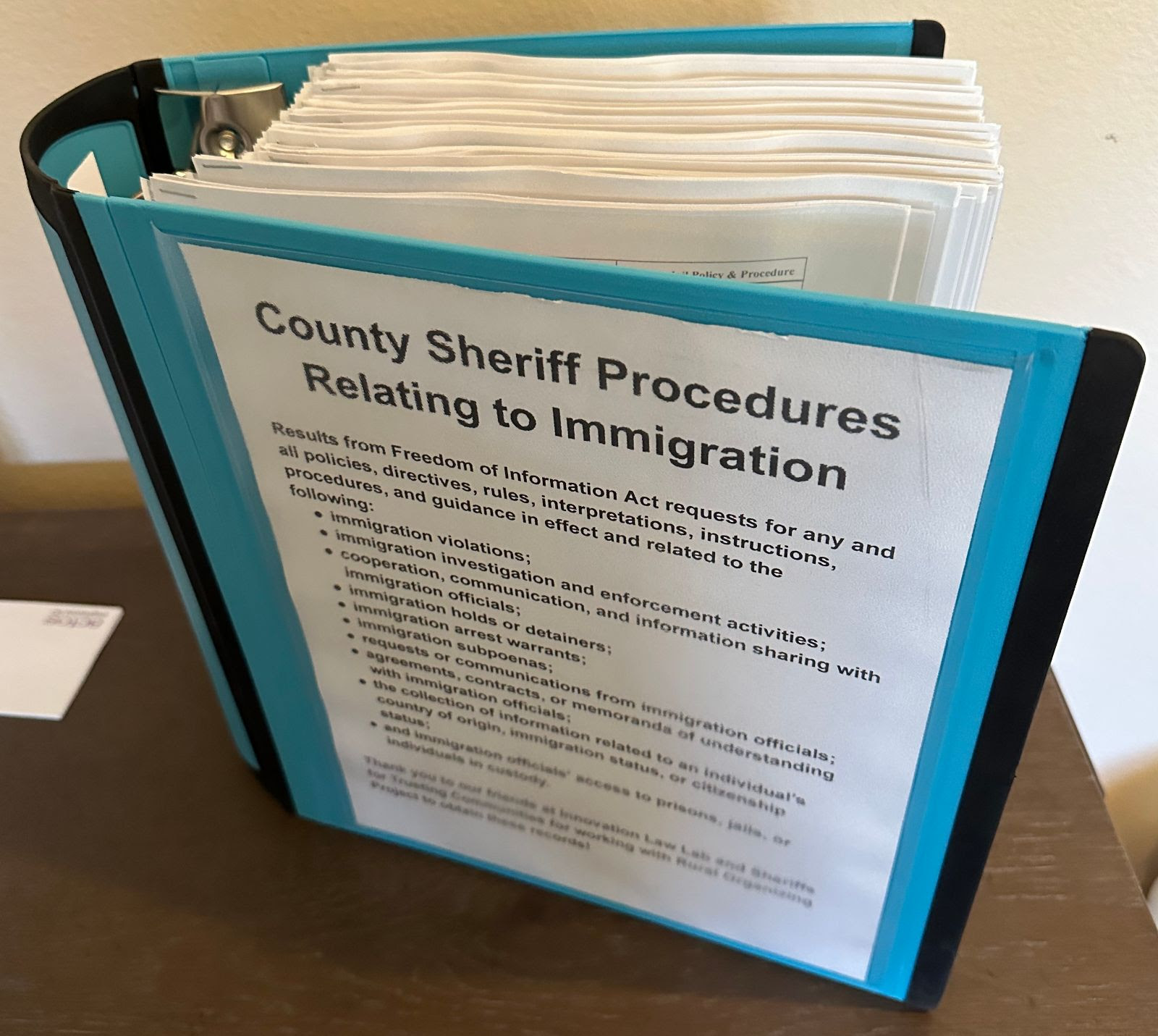 As one of the 4 counties that had yet to respond to the statewide records request, Benton County organizers made plans to pressure their sheriff until he released their policies, which he has since done! To see your county's policies, email emma@rop.org and we can share them with you!
Strengthening Rural Communities Through Local Media
At this year's Caucus, we were lucky to partner with Oregon Community Media, a statewide network of community radio stations. Thanks to that collaboration, new and young local radio stations will be tapping into the resources and tools of fellow community radio organizers to strengthen their local work. We made new connections that will get more organizers on the air, and sharing their resources, stories, and ideas via broadcast media. And radio leaders working hard to maintain platforms that share trustworthy information for listeners across rural Oregon got connected with one another to swap successful policies and practices!
Countering White Christian Nationalism
Aaron and Cedar, co-founders of Chaplains on the Harbor in rural Grays Harbor County, WA, joined us to discuss the history of how religion has been used both as a tool for oppression and also as a powerful space of resistance, and what lessons we can learn for countering white Christian nationalism today. They laid out the context of how Christianity has been used to justify violence and land theft, but also the ways in which faith-based organizing has historically been and continues to be a home for powerful organizing for justice. Together we connected the dots between mass incarceration, rural isolation, race, and poverty to identify strategies and opportunities to support faith-based and secular communities in confronting rising white Christian nationalism.  
After the breakout session, we ended the day with Human Dignity Awards, music, dinner, games, and more fun! Read about all the incredible award winners here.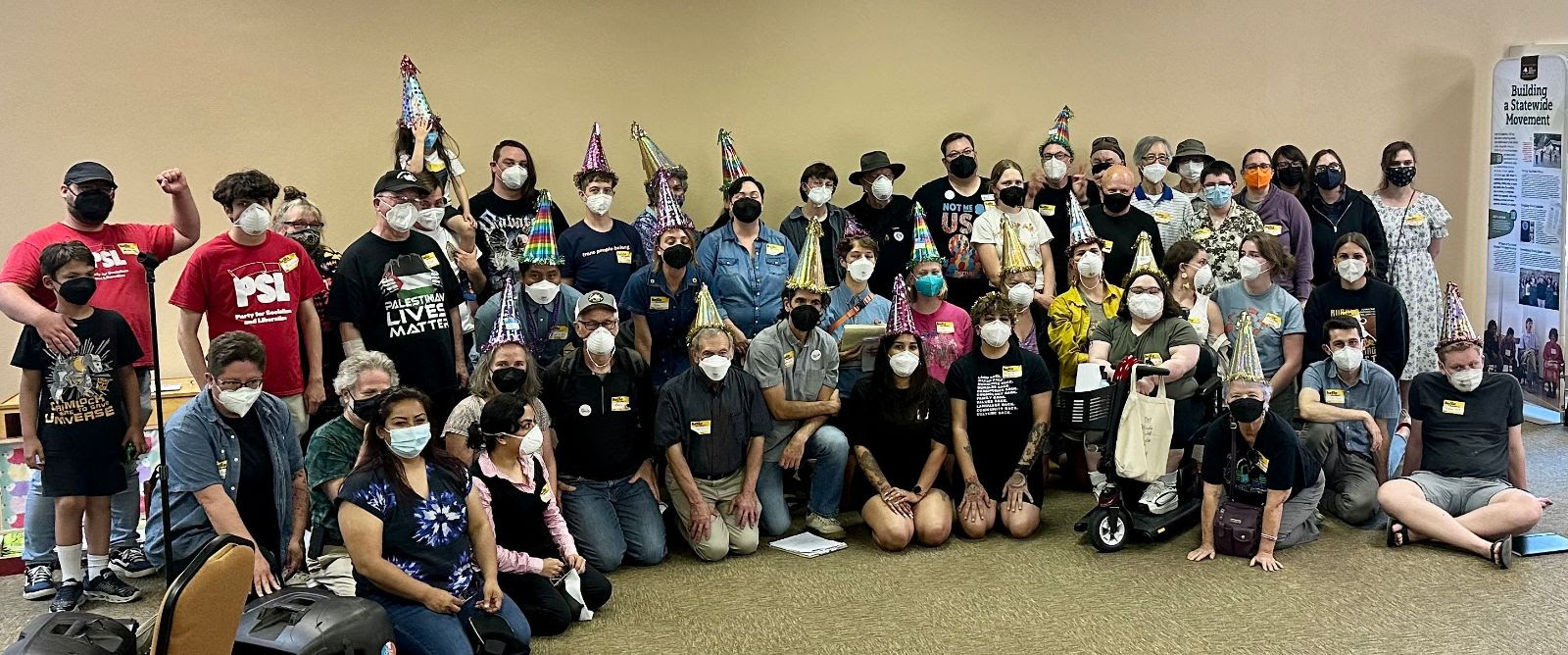 Rural Organizing Intensive
On Sunday, many of us stuck around for the Rural Organizing Intensive where caucus-goers broke into two tracks: (1) "On Message, With Meaning" and (2) "Running & Managing a Community Radio Station." These tracks continued the conversations that started on Saturday with Oregon Community Media and Robert Bray. In "On Message, With Meaning,"folks got to refine their values-based messaging from Saturday, as well as practice spokesperson skills, creating short and sweet videos so that we could then critique and learn from one another. Across the hall, Oregon Community Media shared lessons learned for how to best run and manage a radio station from a community-minded and inclusive perspective.
We know that so many folks filled their cup at the Caucus and came away with deepened solidarity, greater confidence that we have each other's backs, and a sense of home in the connection we feel across rural Oregon. We are so grateful to all the people that made the Rural Caucus and Strategy Session not only possible but a resounding success this year!
Want to know more about what came out of the strategy sessions? Contact us at sidra@rop.org